Susan Rewis - I'll Eat My Hat (1966)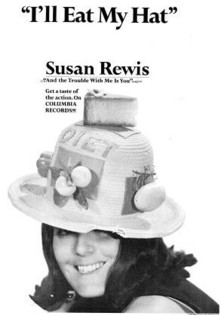 Single on Columbia #43777. The B-side was And The Trouble With Me Is You, recorded in Australia by Judy Stone (1967).

Darrell Glenn copyrighted I'll Eat My Hat in May 1966. The writer credit on both records shows "D. Glenn".
Darrell Glenn (1935-1990) recorded the original version of Crying In The Chapel, written by his father Artie (1953, #1 USA). That song was widely covered, notably by The Orioles, June Valli and Rex Allen, and an Elvis Presley version was a hit in 1965.
Among Darrell Glenn's own compositions is the 1967 Elvis Presley single Indescribably Blue (#33 USA).
Susan Rewis sometimes appears in the catalogues of vinyl dealers where some of her songs have attracted the "Northern Soul" tag. A demo of They Say You Found A New Baby was being offered for £156.00 in July 2010, around $AUS280.00 at the time.
This seems to be the same Susan Rewis who became founding president of Gold Dust Records in 1968. See the announcement in Billboard, 10 Feb 1968, and the photo op, 17 Feb 1968.
Advertisement from Billboard 17 September 66 [at Google Books]
References, further reading:
1. Susan Rewis in Billboard: 17 Sept 1966, 10 Feb 1968, 17 Feb 1968 (Google Books links)
2. Crying In The Chapel versions listed at The Originals.
3. Notes on Crying In The Chapel at Elvis Presley: The Originals.
4. Wikipedia entries on Darrell Glenn and on Crying In The Chapel.
5. Darrel Glenn bio at HillbillyMusic.com
6. "Modest Church Inspired An Elvis Presley Hit", Logansport Pharos-Tribune, 3 April 1998 (via NewspaperArchive.com): detailed story of the Glenns and Crying In The Chapel.
7. Darrell Glenn repertoires at BMI and ASCAP; US Copyright Office data.
8. Darrell Glenn at Discogs.com
9. Cashbox singles chart 19 Sept 1953
Thanks to Terry Stacey for spotting the original and to Phil Milstein and Robert Pingel for confirming it.
Martha Tilton - I'll Eat My Hat (1944)

SAME TITLE BUT NOT THE SAME SONG AS
'I'LL EAT MY HAT' BY LITTLE PATTIE.

Written by profilic film composers Livingston & Evans (see Que Sera Sera), sung by Martha Tilton in the 1944 film Swing Hostess.
Further reading: 1. LivingstonAndEvans.com. 2. NYT obituary for Jay Livingston, 2001. 3. Jay Livingston and Ray Evans listings at IMDb.