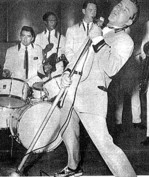 The melody of Johnny O'Keefe's To Love is from La paloma (1859) by the Spanish composer Sebastian Yradier. The lyrics are those first recorded by Ral Donner (see below).
This was the B-side of Sing, a single on Leedon by Johnny O'Keefe (1935-1978), Australia's biggest star of the rock'n'roll era, known as The Wild One, The King of Rock'n'Roll or just J. O'K.
All of the songs listed on this page use the same melody, from Yradier's La paloma. It has been adapted for many songs over the years, but only a few significant or interesting versions are highlighted here.
To listen to an early recording of La paloma, jump to here.
Acknowledgement: This page draws almost entirely on original research contributed by Chris Vening.
---
Ral Donner - To Love (1962)
Influential version
Single on Gone, recorded May 1961 but released the following year. In the meantime, Elvis's No More, based on the same Sebastian Yradier melody, La paloma, had been released (see below).
The lyrics: (also used in Johnny O'Keefe's 1962 Australian version)
To love –
Is to feel a thrill that you've never known
To love –
Is to know her lips are for you alone
To dream –
And to see that wild little dream come true
How sweet
You were meant for me – I was meant for you…
Ral Donner was an Elvis Presley influenced rock'n'roll singer (1943-1984) whose big hit was his 1961 US #4 You Don't Know What You've Got (Until You Lose It). He provided the voice of Elvis in the 1981 biopic This Is Elvis.
See also I Got Burned.
Further reading: 1. Ral Donner's 1979 interview from Goldmine, where he discusses To Love: We went into the studio with strings and real heavy production; after George heard it he thought it wasn't the way to go – that it was too much of a departure off of what I had just done. I didn't realize he got as far as releasing stock copies of that record (Gone 5108) and that's when he pulled it off the market and sent me to Florida to do the album. 2. Ral Donner: In the Footsteps of Elvis at Rocakabilly Hall Of Fame.
---
Dean Martin - La Paloma (1963)
On the 1963 Reprise album Dino Latino:
When I left Havana nobody saw me go
But my little gaucho maid who loves me so
She came down the pathway following after me
That same little gaucho maid that I longed to see
In 1956 Dean Martin had recorded The Look, also based on La paloma: see above.
---
Dean Martin - The Look (1956)
The look
As she passed she flashed that come-hither look
The look
That was meant for me and for me alone
The look
Would be out of place in a children's book
The look
That could chip a piece off a heart of stone
Also recorded by Dean Martin in 1963 as La Paloma, with different lyrics: see below.
---
Elvis Presley - No More (2) (1961)
From the film Blue Hawaii. The melody is Yradier's La paloma.
An earlier rewrite of La paloma from Britain, also entitled No More, is a different version: see No More (1), below.
No more do I see the starlight caress your hair
No more feel the tender kisses we used to share
I close my eyes and clearly my heart remembers
A thousand good-byes could never put out the embers…
Further reading: 1. No More at David Neale's Elvis Originals. 2. Co-lyricist and arranger Don Robertson on writing No More, inspired by the success of the adaptation O sole mio for Elvis's hit It's Now Or Never: I enlisted Hal Blair's aid and we began work on it. I didn't have a copy of the music, so I worked it out from memory. This was probably a blessing in disguise, because it took on a unique quality, different from the song I had learned as a child.
---
Connie Francis - Your Love (1961)
MGM recording, June 1961, first released in Germany on single, EP and LP. The melody is Yradier's La paloma. Connie Francis recorded La Paloma in several languages, 1961-62.
The Your Love lyric (transcribed by Chris Vening):
Your love
Is the one most wonderful thing I own;
Your love
Is the greatest joy I have ever known.
Your smile,
I can see it even when we're apart;
I feel
Like a part of heaven is in my heart.
I'll never forget the night that we met, my darlin'.
One touch of your hand and I heard the church bells chime.
You kissed me and said you'd love me for ever, darlin';
Forever, my love, that's such a long, long time.
For the full discography of Connie Francis versions (included writer credits), compiled by Roger Turner, open this .pdf file (updated Sept 2010). In summary:
Your Love, 1961, English version (on 1961 Italian album Connie Nel Mondo, also on 1962 German single);
La Paloma, 1961: Italian version (single in Italy, B-side of Ti Conquistero, and on 1962 album Connie in Italia);
Jamais, 1962 (rec. 1961): French version (Canadian single, #1 Canada, and album Jamais);
Tu Amor, 1963 (rec. 1962), Spanish version (on 1963 Spanish EP Connie Francis and on 1965/66 album Canta en Espanol y en Stereo Vol 2 and on EP);
Teu Amor (1), 1962, Portuguese version (single and on 1962 album Connie Francis Internacional);
Teu Amor (2), 1985 (rec. 1962), Portuguese version (on album Connie Francis, Brazil only).
La Paloma, 1963 (rec. 1962): Neapolitan version (on 1963 album Mala Femmena & Connie's Big Hits In Italy);
Thank you to Connie Francis discographer Roger Turner.
---
[published Work] - La paloma (1859)
Spanish composer Sebastian Iradier (1809-1865), published as Yradier, is best known for two compositions: the much recorded, performed and reworked La paloma, and El arreglito, famously used as the habanera in Carmen by Georges Bizet who initially believed it was a folk song but later acknowledged it as Yradier's composition.
Commentary by researcher Chris Vening (contributed):
La paloma may be the most recorded song in history. First published in Madrid in 1859, it was written by the Basque-born Spanish composer Sebastian de Yradier (or Iradier). He may have written it on a visit to Havana, inspired by the habanera, a style of Cuban dance music performed with sung lyrics.

The song's central motif was simple: a dove (la paloma) brings back a final message of love from a sailor who will never return. But as the song spread through Europe and America it picked up new lyrics and ideas. In Mexico it became the anthem of revolutionaries and royalists alike. It became a sailor's favourite in the seaports of north Germany. It spread to Spain where havaneres flourished on the Catalonian seaboard. In the US it spawned racist parodies and influenced the jazz of Jelly Roll Morton.

La paloma appears to have been recorded in the US as early as 1896. Since then it has been recorded constantly, in many languages, with widely differing lyrics, and in every possible musical genre and style: military band, light orchestral, operatic, popular, jazz, rock, lounge, reggae, folk and many more. Some of the most popular versions are purely instrumental, like the 1958 US and European hit by Billy Vaughn and his Orchestra.La paloma has inspired several films including its own documentary, the 2008 Sigrid Faltin film La Paloma. Sehnsucht. Weltweit (La Paloma. Yearning. Worldwide).
References: 1. James J. Fuld discusses the original publication of La paloma, in his Book of World-famous Music (1966), see relevant excerpt here. 2. Paul Griffiths, The New Penguin Dictionary of Music (2004) on Iradier/Yradier.
Further reading: 1. List of versions at The Originals by Arnold Rypens. 2. The La paloma entry at Wikipedia includes score and lyrics.
On CD: Would you believe a six-volume set of versions of La paloma? To accompany Sigrid Faltin's documentary on La paloma, Trikont has released La Paloma: One Song For All Worlds, Vols 1-6 [Amazon].
---
Webster Booth - No More (1) (1951)
78 rpm recording by the tenor Webster Booth (1902-1984) with lyrics by British playwright and songwriter Jack Popplewell (1909-1996).
Elvis Presley's No More (1961), also based on Yradier's La paloma, is a different version with the same title. See No More (2), above.
Chris Vening points at that, although there are similarities between the lyrics of No More (1) and (2), this may be attributable to the use of "stock phrases of romantic ballads" in both versions.
Thanks to Jeannie C. at Anne Ziegler-Webster Booth, a blog about Booth and his wife and duettist.
Reference: US Copyright Office, registration #RE0000047801.
Further reading: 1. Webster Booth filmography and biography at IMDb. 2. Jack Popplewell's obituary, The Independent, 27 November 1996.
---
Billy Vaughn & His Orchestra - La Paloma (1958)
Instrumental version, single on Dot by the label's musical director. Billy Vaughn & His Orchestra were often on the charts from the mid-50s to early 60s, notably with Melody Of Love (1954, #2 USA), The Shifting Whispering Sands (1955, #5) and Sail Along Silvery Moon (1958, #8).
Further reading: Billy Vaughn entries at All Music Guide and Wikipedia.
---
Ferruccio Giannini - La Paloma (1896)
First known recording
Berliner label release, cited by Arnold Rypens at The Originals as the earliest known recording of La paloma. Rypens continues his list of versions with recordings from 1899, 1900, 1902, 1905 and 1919.
Reference: History of La paloma at The Originals by Arnold Rypens. (The Originals spells the singer's first name as "Fenuccio" but this appears to be incorrect.) See also Elvis Presley: The Originals (No More).
---
Banda De Zapadores De Mexico - La paloma (1905)
Edison Gold Moulded cylinder #18734.
Early out-of-copyright recording available from several websites including Project Gutenberg.