Johnny Farnham - Everything Is Out Of Season (1973)
Johnny Farnham: enduring Melbourne pop star whose career took off after his first single, the neo-vaudeville novelty Sadie The Cleaning Lady, was skilfully publicised and became the best-selling Australian single of the 60s. He had a run of hits into the first half of the 70s, and branched out into TV and stage drama.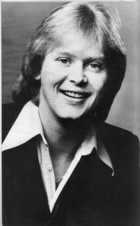 In the early 80s, by then known as John Farnham, he had a further hit with a powered-up version of the Beatles' Help, and he fronted the Little River Band for a time. His real career revival came in 1986 with the hugely popular contemporary album Whispering Jack and its three hit singles including the #1 You're The Voice.
Further reading: 1. Milesago's John Farnham page. 2. The official site is at JohnFarnham.com.au.
The Fortunes - Everything Is Out Of Season (1972)
Roger Greenaway and Roger Cook wrote numerous hit songs together, beginning with The Fortunes' You've Got Your Troubles (1965). For the extent of their output, see Hiroshi Asada's Cook & Greenaway Song List.
As performers, they recorded two hits as David & Jonathan, Michelle (1966, #11 UK) and Lovers Of The World Unite (1966, #7).
Roger Greenaway was one half of The Pipkins (Gimme Dat Ding, recorded in Australia by Frankie Davidson and by Maple Lace).
Roger Cook sang lead vocals with Madeline Bell in Blue Mink, a band that played a repertoire of Greenaway-Cook compositions, including Melting Pot (1969, #3 UK), Banner Man (1971, #3), and Can You Feel It Baby (1970), recorded in Australia by Sherbet.
Further reading: 1. Hiroshi Asada's family tree page from his Tony Burrows website showed links between Cook, Greenaway and singer Burrows through a number of bands [archived page]. 2. Roger Cook's website is at www.rogercook.com.
New Zealand musician Roger Greenaway is a different Roger Greenaway.