Sherbet - Can You Feel It Baby? (1971)
Page updated 2023 with corrections, extra content, and a different original version.
---
With Darryl Braithwaite as lead singer, Sherbet, formed in Sydney in 1969, was one of the most successful Australian pop acts of the 70s. For example, they had twenty records on the Sydney charts 1971-1978, most of them originals. Their biggest hit, the cricket-themed love song Howzat (1976), was a hit in the UK (#4) and also charted in the USA (#61).
Further Reading 1.: Wikipedia article on Sherbet. 2. Sherbet history at Milesago.
Thanks to John G.
Melbourne chart position from Thomas Guest's Melbourne chart book Thirty Years Of Hits.
It also had a bit of a run on 4IP Ipswich, near Brisbane, in October 1971: search ARSA surveys.
---
Blue Mink - Can You Feel It Baby? (1970)
On the album Melting Pot, (UK February 1970), later on Philips single (USA April 1970) also on Real Mink (USA July 1970).
An earlier album also called Melting Pot (USA 1969) did not include Can You Feel It Baby although the two albums have six tracks in common.
Vocals by Madeline Bell and co-writer Roger Cook who was a member of Blue Mink.
Blue Mink had several hits with Greenaway-Cook compositions, including Melting Pot (1969) and Banner Man (1971).
Roger Greenaway and Roger Cook wrote numerous hit songs together, beginning with The Fortunes' You've Got Your Troubles (1965).
As performers, they recorded two hits as David & Jonathan, Michelle and Lovers Of The World Unite (both 1966), and Roger Greenaway was one half of The Pipkins (Gimme Dat Ding).
Everything Is Out Of Season, recorded in Australia by Johnny Farnham, is another Greenaway-Cook composition, and Marcia Hines recorded Your Love Still Brings Me To My Knees, co-written by Roger Cook.
Avoid confusion with NZ singer Roger Greenaway who is a different person.
References: 1. Roger Cook & Roger Greenaway Song List at Hoppy Asada's Too Many Golden Oldies. 2. Roger Cook Chronology [archived page]. 3. Who Is Roger Cook? at rogercook.com.
---
Romy Carr [= Romey Carr] - Can You Feel It Baby? (1970)
Single on Columbia March 1970, recorded with the participation of co-writer Roger Cook.
♫ Listen at YouTube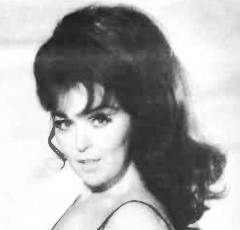 Scottish-born jazz singer Romey Carr (spelt Romy on this record), was born Rosemary Carroll in 1939 (not the American music lawyer). She toured a one-woman cabaret act to several countries including the US, Australia and South Africa. On British TV, she guested on shows that included the Dick Emery Show (1970) and had a role in one episode of the Arthur Lowe comedy Potter (1983).
In the early 1970s she married her manager Mike Barrett who was mainly a boxing promoter and manager. Romey is seen in a 1970 publicity shot with boxer Eduardo Coletti and she met many prominent boxers including Joe Louis. Romy and Mike had two sons, and she was foster mother to four daughters.
Essential reading: In a 2002 profile by The Greenock Telegraph Rosemary Carroll talks about her life and career, from being crowned Miss Gourock 1957, to show business encounters with Tony Bennett and Eric Morecombe, and her charity work with her husband that led to her meeting with Princess Diana.
Sources, further reading: 1. Romey Carr discography with photo at Discogs.com (2 albums. 2 singles 1970-1998). The single as Romy Carr is listed separately. 2. Romey Carr-Romy Carr discography at 45cat.com. 3. Romey Carr at IMDb, listed for one role, in TV comedy Potter with Arthur Lowe (1983). 4. Newspaper TV listing (October 1970).
News clippings: at Ascot (1969); managerial link with boxer Johnny Famechon (1970); photo with boxer Eduardo Coletti (1970); photo with Connie Stevens (1970); wedding photo (1972).