Thane Russal And Three - Security (1966)
British CBS recording. Produced by Paul Raven – better known later as Gary Glitter – and Jeremy Banks (also Russal's manager). 45cat.com has a label shot. See Dave Thomson's biography of Gary Glitter at All Music Guide, which includes the Thane Russal sessions.
A driving, garage style arrangement of the Otis Redding song, this was popular in Australia but sank without trace in its country of origin. (For that reason, Glenn A. Baker included it on Volume 1 of his Hard To Get Hits anthologies.)
The identity of Thane Russal was a matter of speculation in Australia (some thought he might've been Mick Jagger) but Glenn A. Baker finally revealed that he was British singer Doug Gibbons (liner notes to Hard To Get Hits, Volume 1, 1991). Bruce Eder's biography of Thane Russal at All Music Guide gives a good summary of his career.
Gibbons, an associate of the Rolling Stones, was also connected with guitarist Jimmy Page. Doug Gibbons recorded the Jimmy Page-Jackie DeShannon song I Got My Tears To Remind Me for Decca in 1965 YouTube
, and in the same year Gibbons's band The Outsiders recorded two Page compositions for Decca, apparently with the participation of Page (see the Jimmy Page sessionography at The Best Of British Rock).
Lead guitar on Security was by Bob Johnson (later with Steeleye Span), with longtime Thane Russal-Doug Gibbons associate Mick Brill on bass. (Jimmy Page wasn't there: that's just a rumour.)
Doug Gibbons died in 2010 in Paris where he had lived for some time.
Listen: Thane Russal & Three – Security.mp3
Thanks to Mick Brill for personnel details, and to Dave Overett for additional detail.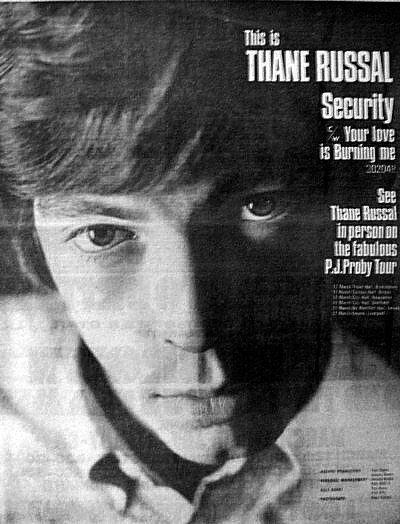 Image: New Musical Express, 4 March 1966, p.5. For detail of the small print see The Blog.
The Saints - Security (1978)
Single from the album Prehistoric Sounds, recorded in London.
This follows the Otis Redding original rather than the rearranged Thane Russal version.
Tony Shepp - Security (1966)
Performance of the Thane Russal arrangement on The Go!! Show, 11 July 1966 YouTube.
Tony Shepp (Anthony Shipp, 1946-1988) was a singer, saxophonist, actor and songwriter from Adelaide who played in a number of bands including the early Clefs, and performed many times on TV's Go!! Show. As a TV actor in the late 60s-early 70s he appeared in popular police dramas Homicide (6 episodes) and Division 4 (21 episodes as Const. Tony Grice). He released two singles, Come To Your Window on Kommotion and Come On Over To My Place on Sunshine, both in 1966.
References: 1. Tony Shepp biography and filmography at IMDb. 2. Tony Shepp biography at Music Finder.
Version alert from Andrew at Antipodean Beat.