Val Martinez - You Make Me Happy (1963)
Single on RCA, July 1963. Writer's name is spelt 'Jimmie' on the label.
---
The singer:
Val Martinez (1936-1998) was from San Antonio, Texas, but he made his career in Los Angeles, singing at such venues as the famous P.J.'s Nightclub where he was a regular.
Val Martinez is doing big business nightly at Hollywood's popular nitery P.J.'s .

Cash Box, January 25, 1964
Before that, he recorded two singles in Cincinatti for the King label in May 1954 when he was still in his late teens. Backing him on organ was the notable r&b keyboardist Bill Doggett with his orchestra. Billboard's review of Martinez's second King single At Last (1954) describes him as using some of the techniques of Johnnie Ray, Billy Eckstine and other stylists.
After one single on United Artists in 1958, Martinez was signed by RCA for five singles 1962-63, including one on RCA's Groove label.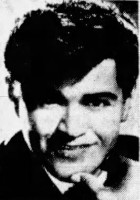 At RCA, Martinez worked with some distinguished names in 50s-60s American music. His single Someone's Gonna Cry (1963), recorded at RCA's Hollywood studio, was arranged by Jack Nitzsche and produced by Lester Sill. Personnel on the session, listed at authoritative pop site Spectropop, included Bobby Sheen, Darlene Love and Gracia Nitzsche (vocals), Tommy Tedesco, Glen Campbell and Barney Kessel (guitars) and Hal Blaine (drums). The arranger and conductor was Shorty Rogers, a major figure in West Coast jazz more often found in studio work at this time.
Noting that Martinez's records are often included under the retrospective genres of Northern Soul and its Belgian counterpart Popcorn, Spectropop has high praise for the big soul sound of Someone's Gonna Cry: a fine set of pipes, a strong song and a first-rate arrangement – a HIT! Of course it wasn't, but it shoulda been.
Lester Sill also co-produced You Make Me Happy. In all, six of Martinez's sides had Lester Sill production credits, including his last A-side Pay Day.
Val Martinez, currently playing the Thunderbird Hotel, Las Vegas, has recorded 'Pay Day' for RCA, and is gaining heavy play.

Cash Box, March 3, 1963
---
Val Martinez over three generations In fact, the current Val Martinez tells us at his website that there are four generations of singers called Val Martinez, but my research has not reached that far back. The I, II and III below are for clarity: the numbers do not usually appear after their names.
• Val Martinez I (1900-1943) was a Mexican singer-guitarist who performed in San Antonio and other locations in Texas. In July 1933 the Herald in Brownsville, Texas, announced the appearance of Mexico's golden-voiced recording artist Val Martinez and troupe. His recordings, mostly in Spanish, included numerous sides in San Antonio in the late 1920s,1 and four 78s on Decca(1936).2 [Listen at YouTube.] In 1932 he was singing three times a day on the high-power Mexican station XER, just over the border from Texas .3 His son was:
• Val Martinez II (1936-1998), who recorded You Make Me Happy (see above). His son is:
• Val Martinez III, who first sang in public at the age of 3 when he joined his dad on stage. He is associated with Frankie Valli and The Four Seasons, both as a touring member of the (New) Four Seasons (2004-2007), and as singer and director with the tribute show Walk Like A Man. His work in a range of musical fields can be seen at his website Val Martinez Music.
1. See, for example, Richard Spottswood, Ethnic Music on Records, p.2073, and Laird & Rust Discography of OKeh Records, 1918-1934, p.563. The Strachwitz Frontera Collection features many Val Martinez records with label shots and audio samples
2. Online Discographies Project's discography for Decca (USA) 10000 series (Mexican): see label numbers 10108, 10130, 10161 and 10169.
3. José Luis Ortiz Garz's history of XER, Una Radio Entre Dos Reinos (2010), p77 has more details on Martinez's performances [Internet Archive]. XER was in Villa Acuña, now Villa Ciudad.
Thanks to Val Martinez.
---
The writer:
New York singer, songwriter, producer and label owner Jimmy Curtiss (b. James Stulberger, 1940) had a varied and productive career in music from the late 50s but never became a household name.
Curtiss released two singles in the current teen idol style 1960-61 on United Artists, and one on Warner Brothers (1962), before concentrating on songwriting and working in advertising. He resumed recording with three singles onLaurie 1965-67, of which Psychedelic Situation (1967, co-wr. Ernie Maresca) YouTube is the best remembered. He then formed The Hobbits whose records on Decca later became sought after by fans of sunshine pop. From 1969, Curtiss's own label Perception issued records by a number of jazz, r&b and pop artists, the most successful of which was King Harvest's Dancing In The Moonlight (1972). During this period he produced and wrote for a number of lesser-known bands, often in bubblegum or psychedelic pop styles, and released his own album Life using the name J.C. (1969).
More on Jimmy Curtiss: 1. My initial source on Curtiss was Jason Ankeny's detailed biography of Curtiss at All Music. 2. The biography at the unofficial Jimmy Curtiss site has more details and is more up-to-date.