Single on Chart by soul-styled Sydney rock singer Jeff St John (Jeffrey Newton, 1946-2018) fronted a number of first class bands during the 60s and 70s, including The Id and The Copperwine. His performances were memorable not only for his strong, soulful vocals but for the wheelstands and spins he would execute with his wheelchair.
See also Cloud Nine and Jeff St John & the Id.
Further reading: 1. Jeff St John obituary by Glenn A. Baker. 2. Milesago's Jeff St John page, including band personnel and discography.
Rotary Connection - Teach Me How To Fly (1968)
Song written by band member Sidney Barnes, on the album Rotary Connection (also known as Aladdin). This was on Cadet Concept, a Chess subsidiary.
Rotary Connection vocalist Minnie Riperton (1947-1979) had a successful solo career during which she recorded Lovin' You (1975, #1 USA).
Alison McCallum - Teach Me How To Fly (1973)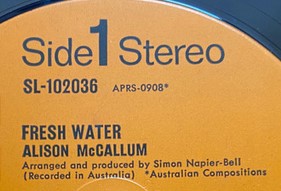 B-side on RCA Victor by versatile Sydney singer who sang with several bands from 1967 before going solo.
On this single her name is shown as McCallum. It has appeared on her records as either MacCallum – her actual name – or McCallum. (See, for example 10 singles listed at 45cat.com.)
Alison MacCallum's first charting single was as lead singer on I Ain't Got The Time by Freshwater, a New Zealand band based in Australia (1971, #17 Sydney, #11 Brisbane).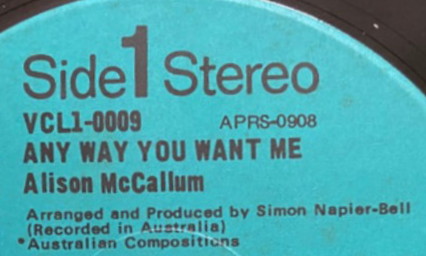 Her first solo single and her biggest hit was Superman [YouTube], written by Harry Vanda & George Young and produced and arranged by notable British visitor to Australia Simon Napier-Bell (1972, #10 Sydney, #10 Melbourne, #9 Brisbane, #7 Adelaide, #7 Perth). In Sydney and Perth the B-side Take Me Back, written by Ted Mulry, co-charted with Superman. A handful of hits followed around Australia, the last of which was Excuse Me (1975, #12 Sydney, #1 Brisbane).
During this period MacCallum also released two well-received albums: Fresh Water (1972, reissued as Any Way You Want Me, 1974), and Alison (1975, aka Excuse Me: see notes at Discogs.com). Both albums were produced and arranged by Simon Napier-Bell.
Alison MacCallum is also remembered for her lead vocals on It's Time, the Australian Labor Party's celebrity-packed jingle for its successful 1972 election campaign [YouTube].
---
See also The Hooter Sisters, the trio Alison MacCallum formed with Janice Slater and Bobbi Marchini for one single (1974).
---
Essential reading: Mike Robbins's biography of Alison MacCallum at Milesago which also has details of her career before and after the hit singles.
MacCallum… bolted out of the blocks screaming her straight up hard rock and howling her blues… Her scorching rock vocal style deservedly won comparison with Tina Turner, Janis Joplin and Maggie Bell, who were blazing a similar trail overseas, but she was in every way one of a kind in Australia.

Michael Robbins at Milesago
Flake - Teach Me How To Fly (1970)
B-side of Reflections Of My Life, single on Du Monde label.
Sydney band formed in 1968 that went through several personnel changes and genres, from hard rock to psychedelia to Top 40 pop.
Further reading: 1. Flake history by the band's flautist and saxophonist Dave Allen. 2. Dave Allen's Burning Mountain Studio.
Thanks to Mike Robbins.
Erl Dalby - Teach Me How To Fly (1971)
Erl Dalby is best remembered for Can't Wait For September by Erl Dalby and Pyramid, a classic pop gem written and produced by ex-Easybeats Harry Vanda and George Young (#15 Sydney, #18 Brisbane). The story goes that Erl Dalby's previous band Erl's Court, formed in Wollongong, is heard on that record, but was soon replaced for touring and promotion by Pyramid, a six-piece band featuring three vocalists.
Erl Dalby, now Erl Montaigue, moved to Wales, taught Tai Chai and martial arts, and formed his family band Moontagu [YouTube].
Version alert and research by Terry Stacey.