Flake - Reflections Of My Life (1970)
Single on du Monde, vocals by Sharon Sims, by Sydney band formed in 1968 that went through several personnel changes and genres, from hard rock to psychedelia to Top 40 pop.
For recent news on Flake's flautist and saxophonist Dave Allen see his blog Burning Mountain Studio, which links to his pages on Flake history.
Suggestion from Mike Robbins, who also posted the video at YouTube and comments: Marmalade may have had the original UK hit, but with the fabulous vocals of Sharon Sims out front, this version by Flake wins hands down for me.
The Marmalade - Reflections Of My Life (1969)
Single on Decca by Scottish band originally formed in Glasgow in 1961 as Dean Ford and The Gaylords (see Twenty Miles).
---
Arranged by prominent and prolific British theme composer Keith Mansfield whose work has been featured on many collections of "library music".
---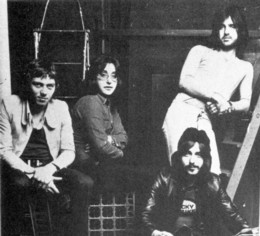 Dean Ford (b.Thomas McAleese) wrote this song with band member Junior [William] Campbell. At YouTube, Dean Ford performs Reflections Of My Life in 2014, with content from 1969. The comments there and elsewhere show that the song has special meaning for some veterans who associate it with their Vietnam War days.
See also the Campbell-McAleese song Rainbow (1970), covered in Australia by Elm Tree.
Marmalade had eight Top 10 hits in Britain including one #1, their cover version of The Beatles' Ob-La-Di, Ob-La-Da.
Junior Campbell later wrote the theme to Thomas the Tank Engine & Friends.
Further reading: 1. The Marmalade page at Rockingscots. 2. Dean Ford & The Gaylords from the defunct British Beat Boom site [Internet Archive]. 3. Marmalade biography by Bruce Eder at AllMusic. Eder: [Ob-La-Di, Ob-La-Da] become a number one hit in England and sold millions of copies around the world, generating a massive amount of radio exposure. The problem was that it wasn't really what the group was about. Marmalade was much more influenced by American soul, folk-rock, and progressive rock, but they had become locked into an image as a soft, bubblegum-type pop/rock band.
Thanks to Peter Clarke and Terry Stacey.