Elm Tree - Rainbow (1970)
Single on de Monde by Sydney band formed 1969, also written as Elmtree. The label of the single has it as Elm Tree.
Elm Tree had two vocalists, Andy Imlah and John Young, the latter now known as John Paul Young who became a top Australian singing star in the late 70s. See Soldier Of Fortune (1983).
Further reading: Elm Tree and John Paul Young pages at Milesago.
YouTube: The YouTube video "Elmtree: Early Days" runs 7:28 with audio of Rainbow and the B-side Lonely Nights, plus photos of the band. As a bonus, the final minute has a 1970 live version of Vehicle, the Ides of March song.
Thanks to Terry Stacey for suggestion & original.
The Marmalade - Rainbow (1970)
Single on Decca by Scottish band originally formed in Glasgow in 1961 as Dean Ford and The Gaylords.
Dean Ford (born Thomas McAleese), co-wrote this song with band member Junior [William] Campbell.
Marmalade had eight Top 10 hits in Britain including one #1, their cover version of The Beatles' Ob-La-Di, Ob-La-Da.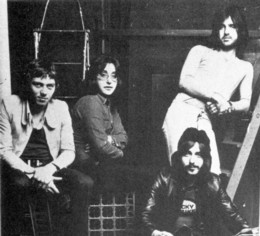 See Reflections Of My Life (1969, #3 UK #10 USA), also written by Campbell-McAleese, remade by Australian band Flake (1970). See also Twenty Miles.
Junior Campbell later wrote the theme to Thomas the Tank Engine & Friends.
Further reading: 1. The Marmalade page at Rockingscots. 2. Dean Ford & The Gaylords from the defunct British Beat Boom site [Internet Archive]. 3. Marmalade biography by Bruce Eder at AllMusic.
Thanks to Peter Clarke.