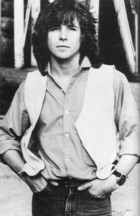 Glasgow-born singer John Paul Young, known as Squeak or JPY, was a major Australian pop star of the seventies.
Initially with Sydney band Elm Tree, his career was helped along by the producer-writers Harry Vanda and George Young, by his appearances on the weekly pop show Countdown and by his talented backing band The All-Stars. JPY's chart success extended to Europe and South Africa with such hits as Standing In The Rain and Love Is In The Air, the song most identified with him through its use in the film Strictly Ballroom.
Soldier Of Fortune was from the album One Foot in Front (aka Soldier of Fortune), recorded for the German label I.C. Records in Hanover, Munich, Los Angeles, Sydney and Melbourne with the participation of co-writer/producer John Capek.
On CD: Australian Pop of the 80s – Counting the Beat.
---
Co-writer John Capek had been in several Australian bands, including Leo De Castro & Friends, Carson (originally Carson County Band) and King Harvest. At his website, JohnCapek.com, he describes himself as a composer, songwriter, keyboard player (and) arranger (whose) unique musical stamp is strongly influenced by his Czech birth, Australian upbringing, North American residency and extensive travel throughout the world.
Marc Jordan is a Canadian singer and composer (see below).


Rod Stewart's 1991 hit Rhythm Of My Heart (#5 USA) is another Capek and Jordan composition.
Manhatten Transfer - Soldier Of Fortune (1983)
On the album Bodies And Souls.
Released in September 1983, the same month as John Paul Young's single of Soldier Of Fortune.
Both John Paul Young's Soldier Of Fortune album and Manhatten Transfer's Bodies And Souls included multiple songs written by Capek & Jordan.