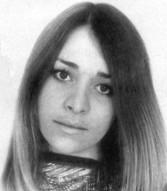 Colleen Hewett (b.1950) came from Bendigo in regional Victoria. Starting as a pop singer with local bands, she later branched out into acting and entertaining on stage, screen and radio. More recently, Colleen played Peter Allen's mother on stage in The Boy From Oz, starring Hugh Jackman.
Day By Day is from Godspell, a gospel rock musical. Colleen Hewett was a member the Australian cast in the early 70s.
This is a studio recording, produced by Ian "Molly" Meldrum, Melbourne rock journalist and TV personality. See The Real Thing by Russell Morris, also produced by Molly Meldrum.
Co-charted in Sydney with Judy Stone's version.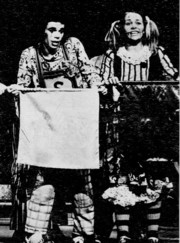 Colleen (right) with Chris Pate,
Melbourne Godspell production.
---
Judy Stone - Day By Day (1971)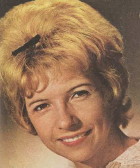 Co-charted with version by Colleen Hewett.
Judy Stone: popular Australian singer, a regular on the long-running TV pop show Bandstand, often on the charts in Australia from the early 60s to the mid-70s.
Further reading: Wikipedia article on Judy Stone.
---
Holly Sherwood - Day By Day (1971)
Single on Carousel (USA) and Bell (UK). Charted in the UK in February 1972.
Stage actor and dancer Holly Sherwood later became known for her work with producer Jim Steinman on records by such artists as Bonnie Tyler and Meatloaf.
See also: Yesterday And You.
Further reading: 1. Wikipedia entry on Holly Sherwood. 2. IMDb entry. 3. Label shot and release details at 45Cat.com.
---
---
Generation X - Day By Day (1977)
Same title but not the same song as "Day By Day" by Colleen Hewett.
---
Doug And The Slugs - Day By Day (1985)
Same title but not the same song as "Day By Day" by Colleen Hewett.
---
"Godspell": Original Off-Off-Broadway Cast - Day By Day (1971)
Godspell: a gospel rock musical. Vocal by Robin Lamont.
Opened May 1971 with Stephen Schwartz's additional music and lyrics, including the song Day By Day.
Godspell had previously opened at the Off-Off-Broadway Cafe La Mama Theatre in March 1971, in a version developed before Stephen Schwartz was engaged to write extra material. Even earlier, in 1970, John-Michael Tebelak's first version of the show had been produced by him at Carnegie-Mellon University. Neither of these productions included Day By Day, and only one song was retained from Tebelak's original show.
In 1978 Stephen Schwartz successfully took composer Ray Ellis and NBC to court over the similarity between the theme to NBC's Today Show and Day By Day. For discussion of the case, court transcript and audio files of both works, see the Music Plagiarism Project.
References: Origin of Godspell and Ashley Leach's 1998 Interview with Stephen Schwartz, both at Everything You Need to Know About Godspell. (The site is no longer online: the links are to archived pages.)
---