Chaos And Co - Seven Golden Daffodils (1966)
*Also charted on the Hot 100 of 7HT, the Hobart radio station.
Single on Columbia by band from Launceston, Tasmania. The line-up was Trevor "Gypsy" Evan-Jones (lead vocals, rhythm guitar), John Pearce (lead guitar), John Evan-Jones (vocals, tambourine ), Dave Randell (bass, vocals), and Graeme Pearce (drums).
See also the B-side, It Was You.
Launceston band The Revelles, formerly The Revels, recruited the Evan-Jones brothers after the departure of other band members (one of whom was Steven Groves, later of Tin Tin). The Revelles changed their name to Chaos And Co soon after.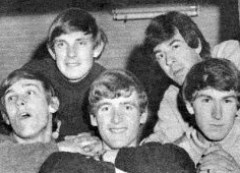 Chaos And Co also worked in Melbourne venues, and Seven Golden Daffodils was recorded in Melbourne at Bill Armstrong's studios. After winning the Launceston heat of Hoadleys Battle of the Sounds they came third in the 1966 national final (The Twilights came first).
After Chaos And Co, the Jones brothers were in Mickey Finn, formed in Launceston and working in London for a while, but in Australia long enough to make the 1967 national final of the Battle of the Sounds (not the Adelaide 70s-90s band Mickey Finn). After returning to Launceston, Trevor Jones was in Sweaty Betty, a band that made the 1970 Battle of the Sounds finals and released a single of Every Little Thing (1971), the Beatles song.The Jones brothers had emigrated to Australia from Canterbury in England as teenagers. In the 1970s, by then back in the UK, they were in the highly-regarded progressive rock band Jonesy.
Image from SecondHandSongs (enhanced & cropped).
References, further reading: 1. I have tried to encapsulate a long story, but go to the official Jonesy the Band site for details on The Evan-Jones brothers' early years and Chaos And Co. 2. Chaos And Co page at Music Matters has many essential details, citing Andrew Ainsworth's defunct Antipodean Beat website as a source. 3. Brief Jonesy overview at ProgRockArchives.
Update (2014): Trevor Evan-Jones posted a comment at YouTube in response to a fan: Whatever happened to us?…did a load of recordings, as session players and artists….Sweaty Betty, Anno Domini etc etc….had a band Jonesy (Jonesyband.com) that released 5 albums…recorded 2 albums with Ray Thomas of The Moody Blues….etc etc. Sadly, John died last April (2013) in Copenhagen but I'm still alive 'n kicking and enjoying the mountains of the south of France…….and still composing….and still happy! All best, Trevor.
Thanks to Terry Stacey for additional details on Hoadleys Battle of the Sounds.
---
The Tarriers - Seven Daffodils (1960)
On Atlantic album, Tell The World About This, also on a 1963 Decca single, B-side of Lonesome Traveler.
The writers are Lee Hays of the influential folk group The Weavers (formed in 1948) and his sister Fran Mosely.
The Tarriers were formed in mid-50s New York by three members of The Tunetellers, a Weavers-inspired folk group that included singer-songwriter Erik Darling. After joining The Weavers for a few years from the late 50s, Darling formed The Rooftop Singers who had a #1 hit in 1963 with Walk Right In.
The fourth founding member of The Tarriers was Alan Arkin, now better known as a film actor.
The Tarriers' biggest hit was The Banana Boat Song, at #4 the highest of several versions charting in 1957. (Harry Belafonte's well-known version, as Banana Boat (Day-O), reached #5.) They had also charted at #9 in 1956 on Cindy, Oh Cindy by Vince Martin with the Tarriers.
There are many other versions apart from those listed above. Jim Dixon, posting at Mudcat Cafe's forum, also lists Kenny Ball and His Jazzmen, The Blueground Undergrass, The Brandywine Singers, Tom Chapin, Good Medicine, Nobuyoshi Ino, The Lords, Nina & Frederik, Jimmie F. Rodgers, The Seldom Scene, The Shaw Brothers, and Alice Stuart. Also recorded by South African pop band Dickie Loader & The Blue Jeans (1964).
Weavers version? I doubt that The Weavers ever recorded Seven Daffodils, although some sources assume they did. It does appear in a 1966 collection of sheet music called Travelin' On With The Weavers which also happens to be the title of a Weavers LP from 1959 (with Travelling instead of Travelin') but the song doesn't appear on that album. It's possible that they performed it live, but that's hard to establish.
Traditional? Hays & Mosely copyrighted Seven Daffodils in August 1957 (US Copyright Office, Registration no. RE0000257265). I've seen it suggested that the song has a traditional origin (The Renegades seemed to think so, see above), but a number of threads at the MudCat Cafe folk forum have covered this question, and the consensus is that the song is an original 1950s composition.
Year? Discographies.com dates the album as 1959, but it was reviewed in Billboard in November 1960. The Atlantic discography at BSN also has 1960.
---
---
Lonnie Donegan And His Group - Seven Daffodils [also as Seven Golden Daffodils*] (1961)
Single on Pye, B-side of Have A Drink On Me (#8 UK, #17 Sydney, #21 Melbourne, #35 Brisbane, #17 Adelaide). *On the Australian and New Zealand Pye singles the title was Seven Golden Daffodils.
Lonnie Donegan (1931-2002) was the major populariser of skiffle, the movement that inspired a generation of British musicians to start their own bands, often with limited skills and improvised instruments. He was a star in the UK, with fifteen Top 10 hits 1956-1962, including three at #1: Cumberland Gap (1957), Puttin' On The Style/Gamblin' Man (double-sided hit, 1957) and My Old Man's A Dustman (1960).
In 1956, long before British artists invaded the US charts, Donegan charted on Billboard's Hot 100 with his first hit, Rock Island Line (1956, #8 UK, #8 USA), and again with Does Your Chewing Gum Lose Its Flavour (On The Bedpost Overnight?) (1959, #3 UK), a US #5 in 1961.
References, further reading: 1. Richard Williams's concise summary of skiffle at Britannica.com. 2. Mark Kermode's 2008 Guardian story "My 20-year love affair with the joy of skiffle" is good on the ethos of skiffle. 3. The Guardian's obituary of Lonnie Donegan: the first British pop superstar, and the founding father of British pop music, the musician who provided the original inspiration for John Lennon, Paul McCartney and a host of others.
---
The Brothers Four - Seven Daffodils (1964)
Single on Columbia by Seattle folk quartet formed in 1957 by students ("frat brothers") at the University of Washington. After moving to San Francisco, The Brothers Four had a #2 hit in 1960 with Greenfields, written by Terry Gilkyson and two members of The Easy Riders: see also Ernie Sigley's Love Is A Golden Ring.
The Brothers Four were part of an early-60s popular folk boom, actually the culmination of a decades-long American folk music revival. Many commercial folk groups appeared on the pop charts in the few years before the British Invasion, including The Kingston Trio, The Highwaymen, The New Christy Minstrels and The Limeliters. The fictional Folksmen in the 2003 comedy A Mighty Wind are a parody of groups from this era [YouTube].
In 2020 The Brothers Four were still announcing tour dates for 2021, postponed because of the coronavirus pandemic. The line-up included original member Bob Flick, and Bob Pearson, a fellow alumnus of Washington State who joined in 1969.
References, further reading: 1. Official site at BrothersFour.com. 2. Brothers Four artist biography by Bruce Eder at All Music.
---
The Renegades - Seven Daffodils (1965)
Single on Scandia by UK band from Birmingham that built a successful career in Finland after doing a well-received gig there (cf. Red Squares, Boston, Lincs band that moved to Denmark: see under Good News). They were also popular in other parts of Europe and later moved to Italy.
The writer credit is to "Trad. Arr: Brown-Gibson-Johnson-Mallett". In fact this is not a traditional song although it has sometimes been taken for one. See below under The Tarriers.
See also: Cadillac.
Reference: Hitomi I's Renegades history, brief but essential.
---
The Mojos - Seven Daffodils (1964)
Entered the charts on 10 September 1964, a week after a competing version by The Cherokees.
Single on Decca by popular Liverpool group that also worked in Hamburg. Evolved from The Nomads, the line-up was Stu James, vocals, Nicky Crouch, guitar & vocals, Terry O'Toole, piano, Keith Karlson, bass guitar and John Conrad, drums.
Of seven Mojos singles on Decca 1963-1967, this was the last of three that charted, all in 1964. The others were Everything's Al' Right (#9 UK, an original, covered in Australia by Normie Rowe) and Why Not Tonight (#25 UK).
Reference: The Mojos at British Beat Boom [archived page at oocities.org from defunct Geocities site].
---
The Cherokees [uk] - Seven Daffodils (1964)
Entered the charts on 3 September 1964, a week before a competing version by The Mojos.
Single on Decca by Leeds band, formed 1961. According to this source they were known as Ray Starr & The Cherokees for a while in 1963.
Seven Daffodils was produced by Mickie Most who by this time in 1964 had produced The Animals' House Of The Rising Sun, Herman's Hermits' I'm Into Something Good, and The Nashville Teens' Tobacco Road, all hits in this year.
In 1966 The Cherokees changed their name to New York Public Library. They recorded again with Mickie Most on Decca and then on MCA and B&C before breaking up in 1973. Later re-formed, New York Public Library has released a new album as recently as 2012, although their website at nypluk.com now says (2016) that NYPL have entered into a long rest period.
Not to be confused with the 60s Australian band also called The Cherokees.
References, further reading: 1. Leeds' Musical Heritage: 1960s at BBC Leeds. 2. Dave Edney's Top Twenty Club: A history of artists that appeared at Bridgwater's Town Hall – 1960-1966. 3. The Cherokees at British Beat Boom [archived page at oocities.org from defunct Geocities site]. 4. New York Public Library's website.
---
The Limeliters - Seven Daffodils (1961)
On the Limeliters' first and highest charting album, The Limeliters: Tonight In Person (1961, #5 Billboard Albums).
The Limeliters – Glenn Yarbrough, Lou Gottlieb and Alex Hassilev – were part of the early-60s folk boom in the years before the Beatles and the British Invasion hit America.
They never had the singles chart success of such contemporaries as The Kingston Trio but their albums sold well and at their peak 1961-63 they were a hugely popular act on TV and in a hectic tour schedule.
The group broke up in 1965, by which time Yarborough had already left to follow a solo career that produced a Top 20 hit in Baby The Rain Must Fall (1965, #12 USA). Yarbrough, Gottlieb and Hassilev again toured together from 1973 but subsequent personnel changes from 1981 and Gottlieb's death in 1996 left no original members in the Limeliters line-up that still performs today.
Reference: The Limelighters biography by Cary Ginall at All Music.