Bunny Walters - The Nearest Thing To Heaven (1974)
The label misprints writers' names Macaulay and Leathwood as MaCauley and Leatherwood (although I have seen Leathwood's name as Leatherwood in other places including British Beat Boom).
---
Single on Impact by highly-regarded and popular Maori singer-guitarist (1953-2016), originally from the small North Island town of Katikati. Bunny Walters was a star in New Zealand, with five charting records 1970-74 and frequent appearances on TV music shows.
For more details see his biggest hit Brandy or browse all Bunny Walters records listed at this website.
References, further reading: 1. Bunny Walters obituary, "The Kid from Katikati" at NZ news site Stuff.co.nz. 2. Bunny Walters page at NZ music site Audio Culture. 3. Impact label at Audio Culture.
Ben Thomas - The Nearest Thing To Heaven (1972)
Single on Bell (UK), produced by co-writer Tony Macaulay and arranged by Tony King.
Ben Thomas (1945-2008) was an American musician and actor who also recorded as Bennie Thomas and Christopher Robbins.
Billed as Benny Thomas, he was in the film Toomorrow (1970), and in its fictional band of the same name, with Olivia Newton-John.
---
The writers:
• Tony Macaulay (b. 1944) is one of Britain's most successful songwriters. See, for example, the list of his compositions at Hiroshi 'Hoppy' Asado's website. See also, at this website, The Strangers – Melanie Makes Me Smile (1970) and Dave Allenby With Autumn – She Works In A Woman's Way (1970).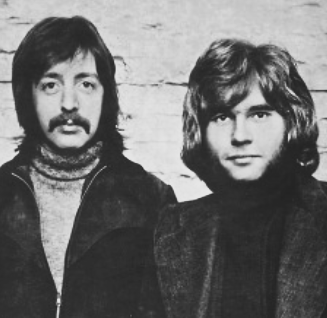 • Gary Sulsh and Stuart (Stu) Leathwood were regular songwriting collaborators. They wrote, for example, The New Seekers' Good Old Fashioned Music (1971, #53 UK) and Shakin' Stevens's A Love Worth Waiting For (1984, #2 UK). Olivia Newton-John's Loving You Ain't Easy (Sulsh-Leathwood-Saker) was a finalist in the UK's 1974 Song For Europe contest.
• Sulsh & Leathwood collaborated with Tony Macaulay on at least five songs released on Bell (UK) 1972-1976. Two Sulch-Leathwood compositions were on a 1972 Bell single by Solid Gold Band, produced by Macaulay.
• Earlier, Stu Leathwood (1942-2004) had been a founding member of Liverpool band The Koobas who released a number of Leathwood compositions or co-writes on singles and on their 1968 album.
• At the end of the 60s Leathwood and Sulsh were in The March Hare whose soon-to-be-famous keyboardist Peter Skellern wrote both sides of their second single. The band became Harlan County* for a self-titled album and a single (1970), produced by Australian David Mackay.
• In 1971 Sulsh and Leathwood released an album as Gary And Stu, Harlan Fare*, which yielded at least two singles (see here and here). Sources claiming this was a different Gary are wrong: all evidence points to Gary Sulsh. (See the small print below the photo on this album sleeve, for example.) Email me if you know more.
• Stu Leathwood's 1985 solo single So Tell Me Who's Crazy was the theme song of British comedy series Mog. The song was co-written and produced by David Mackay, and the B-side It Ain't Right was written by Mackay, Leathwood, and Sulsh.
*The song Harlan County (1970), written by US songwriter Jim Ford, was on the album Harlan County by the band Harlan County.
The song Harlan Fair (1971), on the Gary And Stu album Harlan Fare, was written by Gary Sulsh and Stu Leathwood with Harlan County percussionist Barrie Guard who also arranged and produced the album..
---
References, further reading: 1. IMDb biography of Ben Thomas. 2. "Stuart Leathwood: an Appreciation" by Bill Harry & Stu's Friends at Mersey Beat. 3. Review of Gary And Stu's Harlan Fare at Progressive Review blog. 4. Bob Saker and Stuart Leathwood photographed with other songwriters and Olivia Newton John on the eve of 1974's Song for Europe (Sulsh not present but mentioned). Daily Telegraph (UK), 5 April 1974. page 9 (via Gale Primary Sources).
The Runarounds - The Nearest Thing To Heaven (1961)

Same title but not the same song as 'The Nearest Thing To Heaven' by Bunny Walters.
Single on PIO by doowop group formed in Brooklyn in the late 1950s. Co-written by lead singer Joe Favale.
Further reading: The Runarounds at John Piazza's Doo-wop blog.
---
Other songs called Nearest Thing To Heaven have been copyrighted: see the search result at SongView.