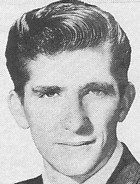 Single on Festival. This was the B-side to My Teenage Love.
Released 1959, charted January 1960.
First single and hit by Sydney rock'n'roll singer and songwriter Warren Williams (b. 1940), who first performed with his band The Squares early in 1958. He had several charting singles in the first half of the 60s (especially in Sydney), initially with The Squares but mainly as a solo artist. He was regularly seen on TV pop shows, including Six O'Clock Rock and Bandstand.


On record, Warren Williams often moved away from rock'n'roll. In 1962 he released an EP, Warren Williams Sings Famous Tenor Solos (see A Star Fell From Heaven, Pedro The Fisherman and Girls Were Made To Love And Kiss). As a youngster he had begun singing in a church choir, and he appeared as a choirboy in the 1953 film Wherever She Goes.
References: Ian McFarlane, The Encyclopedia of Australian Rock'n'Roll; Chris Spencer et al, Australian Rock Discography 1956-1969; Gavin Ryan's Australian Chart Books; Screensound Australia's First Wave discography (.pdf).
See also the All Music Guide entry on Warren Williams.

Billy Walker - Where My Baby Goes (She Goes With Me) (1958)
Single on Columbia by Texan country singer who recorded for Columbia from the early 50s, first in Dallas and then in Nashville. See discographies and biography at Petr Vitous's country music site.
Rockin' Country Style's details include a label shot and audio clip of this record.