Single on W&G by long-lasting rock'n'roll band formed in 1957, popular at dance venues in Melbourne and as a studio band with many top Australian artists. See, for example, their well-known track Wild Weekend (1960) which charted in Melbourne twice, three years apart.
Further reading: For a good history and appreciation of The Thunderbirds, see Eddie Leahy's 1998 article from Big Beat of the Fifties [archived page].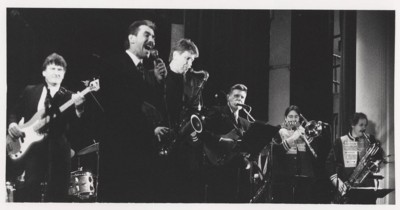 Thunderbirds 1997, at the Preston Town Hall. Photo: Peter Robinson.
The Cannonballs - New Orleans Beat (1960)
Single on Brunswick, B-side of Cannonball Caboose. Also on Coral in UK.
Band from Connecticut. When it comes to The Cannonballs, this uninformative page from Instromania is as informative as it gets.
At YouTube, cielsmith tells us that a calliope, or fairground organ is heard on this track. On the Thunderbirds' version a piano replaces that distinctive instrument (aka steam organ, steam piano or Calliaphone).
Marty Foglia, co-writer on New Orleans Beat, is also credited as co-writer on The Cannonballs' Calliope Boogie (1961). Is this a coincidence?
Co-writer Michael Ralph Colicchio (1924-2006), staff pianist for WCBS-TV, New York, was a composer of music for film and TV (and at least one Broadway production). Classically trained, his WW2 service from the age of 18 included composing and arranging for Glenn Miller's Army Air Force Band and other Air Force bands, during which time he worked with Henry Mancini. His wife was the Canadian-born harpist and teacher Gloria Agostini.
Colicchio often used the alias Sandy MacVane. Much of his film music was credited as MacVane, and 5 out of 6 tracks by The Cannonballs are credited to either MacVane or Colicchio. (On the label of Cannonball Caboose, MacVane becomes MacZane. Misprint or whimsy?)
---
I'm assuming that the other co-writer, Marty Foglia, is the sound engineer (b. c.1929?) who worked for WABC disc jockey Alan Freed. He had his own little record label in 1959, Cecelia, aka Cecilia, which released two records by vocal group The Criterions and – as far as I can see – not much else. The connection with Freed probably helped get The Criterions their airplay and their appearances on Freed's Big Beat Show, but they are remembered today for having included Tim Hauser, founding member of Manhattan Transfer.
Foglia also drew Freed's attention to instrumental group The Viscounts whose unreleased sessions for Cecelia were sold to Madison records, resulting in a minor 1959 hit with Harlem Nocturne that charted #39 upon rerelease in 1965.
In 1966 the name Marty Foglia pops up as producer of a single on Laurie by Texas sunshine pop band The Clique.
---
Thanks to DeadWax and Klepsie for leads on Michael Colicchio via 45cat.
Further reading: 1. Corporal Michael Ralph Coliccio at Find A Grave: many career details. 2. Excellent profile of Coliccio, with quotes from him, in article 'Music to Gamble By Documentary June 18', The Sandusky Register, 20 May 1965 [at Newspapers.com, subscription required]. 3. News of music publishing ventures involving Composer Michael Coliccio, a former CBS-TV staffer, in Billboard, 11 Feb 1967 [Google Books]. 4. Michael Coliccio aka Sandy MacVane at IMdB. He apparently worked on incidental or background music (e.g on The Defenders) that would have been uncredited and so unlisted here. 5. Michael Coliccio at Internet Broadway Database. 6. Michael Coliccio credits at Discogs.com (includes some production credits, mainly on Sound Trek label 1979-80). 7. Marty Foglia, then aged 74, quoted in retrospective about The Viscounts, 'Despite exceptional talent, the Viscounts never really took off', The Mercury (Pottstown PA), 1 Dec 2003.
Jimmy McCracklin - Everybody Rock (aka New Orleans Beat) (1958)

SAME [ALTERNATIVE] TITLE BUT NOT THE SAME SONG AS 'NEW ORLEANS BEAT' BY THE THUNDERBIRDS.
Single on Checker label. Track title is Everybody Rock.
This appears to be the track often listed as Everybody Rock (New Orleans Beat).
Although the two titles usually appear together as alternatives for the same work, Everybody Rock and New Orleans Beat are listed as separate titles at BMI.