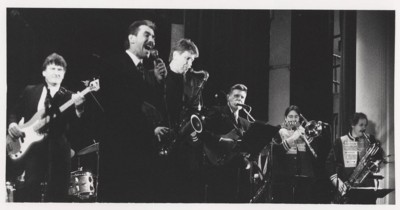 Charting B-side on W&G by long-lasting rock'n'roll band popular at dance venues in Melbourne.
The Thunderbirds were first formed in 1957 by drummer Harold Frith. A re-formed line-up in 1958 included bassist Peter Robinson before he became a mainstay of The Strangers, saxman Colin Cook who later had a successful solo career, and Graham Lyall, the notable composer, arranger, producer, music director and teacher.
Further reading: 1. For a good history and appreciation of The Thunderbirds, see Eddie Leahy's 1998 article from Big Beat of the Fifties [archived page]. 2. Milesago has a detailed Thunderbirds history.
See also other Thunderbirds tracks at this site.
Photo: Peter Robinson.
The Riptides - Machine Gun (1959)
Single on Challenge by band from Ventura, California formed in 1959. Machine Gun was written by three band members.
Founding members Ernie Sawyer and Ross Dietrich had played guitar together as teenagers. After guitarist Johnny Hudson joined them in The Riptides, he took up piano to broaden the band's sound. Drummer Bill Lewis joined in mid-1959, and Machine Gun was released in October. They played at the Ban-Dar nightclub in Ventura and at nightspots in other Californian localities including Santa Monica, Los Angeles, and Culver City.
They were also known as Johnny Hudson and the Riptides, especially from around 1963 with re-formed line-ups. As early as 1959, though, the follow-up single to Machine Gun had been credited to Johnny Hudson and the Riptides. At least one local venue, in 1962, billed them as The Johnny Hudson Trio, "formerly The Riptides".
The final two singles, in 1965, reverted to the Riptides name. Johnny Hudson was a constant member throughout this period, 1963-67. His wife Jan Hudson is credited as co-writer on the The Riptides' 1965 A-side I'm In Love, and his brother also joined the band on drums. Daryl Dragon of The Captain & Tennille was also a member at some stage, along with one of his brothers.
All in all four singles eventuated: three credited to The Riptides and one to Johnny Hudson and the Riptides.
Machine Gun is deservedly a retrospective classic, but it was never a hit. It was reportedly popular in parts of California but so far I haven't found any local chart placings. If you spot them on an old chart, I hope you can share it with me.
---
The defunct French website Instromania listed members of a re-formed Riptides from 1963.
• Piano: Johnny Hudson
• [Guitars]: Vic Diaz, Butch Simpson
• Drums: Bill Lewis
Further members were listed by Instromania for 1963-1967, but without any chronology. This would be the period of Johnny Hudson and the Riptides, although their 1965 singles reverted to The Riptides:
• Drums: Brooke Hudson (brother of Johnny Hudson)
• Keyboards: Doug Dragon, Daryl Dragon (two of three musical Dragon brothers; Daryl was later the "Captain" in The Captain & Tennille)
• Guitar: Max Lobaugh, Steve Aaberg
• Bass: Joe Sawyers (brother of founding member Ernie Sawyers)
• Saxophone: Mike O'Keefe
For more on the personnel listed by Instromania, see the page on Johnny Hudson & The Riptides at Music Master New Oldies which gives more background on Johnny Hudson and the Dragon brothers.
---
Not to be confused with (for example) the popular Australian band of the 1980s or with the Canadian band formed in the mid-1990s.
Reference, further reading: "Onetime Drive-In Performers Make Name as Night Club Entertainers", Ventura Country Star, 3 September 1960, p. B-6.
The Riptides, Ventura CA band 03 Sep 1960, Sat Ventura County Star (Ventura, California) Newspapers.com