The Seekers - Morningtown Ride (1965)
The Seekers: Australian folk lite quartet who found worldwide success after moving to London and recording with producer Tom Springfield, who wrote most of their biggest hits (I'll Never Find Another You, World Of Our Own and The Carnival Is Over, based on an old Cossack song).
Tom Springfield and his sister Dusty, born Dion and Mary O'Brien, were members of folk-pop group The Springfields with Tim Field. They were best known in Australia for Silver Threads and Golden Needles and Island of Dreams.
Thanks to Helen for clarification.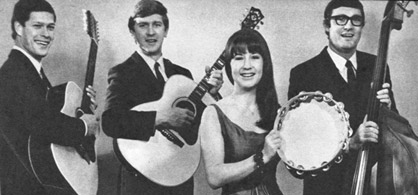 ---
The Limeliters - Morningtown Ride (1962)
On album Through Children's Eyes on RCA label.
American folk trio. Original members included Glenn Yarbrough, who as a solo artist recorded The Honeywind Blows (1964, charted in Sydney and Brisbane) and Baby The Rain Must Fall (1965: #12 USA, charted in Sydney, Brisbane and Adelaide).
Another original member, Alex Hassilev, was still in the group in 2004 and has pointed out that The Folksmen, the fictitious group in the film A Mighty Wind, "are clearly a composite of the Limeliters and a couple of other acts."
---
Malvina Reynolds - Morningtown Ride (1970)
On the 1970 album Artichokes, Griddlecakes and Other Good Things. This is apparently Malvina Reynolds's first released recording of her song. (See post by Margret RoadKnight at the Mudcat Cafe forum Help: Everything Malvina!) Malvina Reynolds may have first performed this song on children's television nearer to the time of its composition.
Malvina Reynolds (1900-1978) was a much-loved singer and songwriter whose best-known songs outside folk circles are probably Little Boxes, What Have They Done To The Rain and Morningtown Ride. See the Malvina Reynolds webpages at Sisters' Choice, the website of Malvina's daughter Peggy Schimmel.
Pete Seeger's version of Little Boxes charted in Sydney and Melbourne in 1964, and The Searchers' version of What Have They Done To The Rain charted in UK, USA, Sydney, Melbourne, Brisbane and Adelaide in 1964-65. Morningtown Ride has been recorded by such children's artists as "Bert & Ernie" of Sesame Street, Raffi and The Wiggles.
Some listeners may detect a similarity between Morningtown Ride and the hymn Summer Suns Are Glowing, words by William W. How (1871). The relevant hymn tune would be Ruth, by Samuel Smith (1865). See the Summer Suns Are Glowing page at CyberHymnal.org which has a midi file of the tune for download.
Thanks to Joop Jansen, Kees van der Hoeven, Margret RoadKnight and Phil Chapman.