The Seekers - The Carnival Is Over (1965)
Based on the melody of the Russian folk song Stenka Razin (or Stenka Rasin).
Australian folk lite quartet who found worldwide success after moving to London and recording with producer Tom Springfield, who wrote most of their biggest hits (I'll Never Find Another You, World Of Our Own).
Tom Springfield and his sister Dusty, born Dion and Mary O'Brien, were members of folk-pop group The Springfields with Tim Field. They were best known in Australia for Silver Threads and Golden Needles and Island of Dreams.
Thanks to Helen for clarification.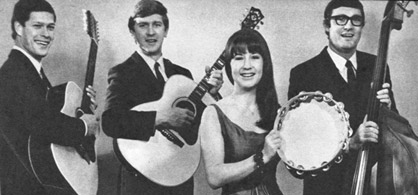 ---
---
Pete Seeger - River Of My People (1953)
English-language version of the Russian folk song Stenka Razin, the melody later used by Tom Springfield for The Carnival Is Over.
The song is copyright 1953; The Originals (book & website) gives 1956, perhaps the recording date.
---
Nick Cave & The Bad Seeds - The Carnival Is Over (1986)
This Australian singer, songwriter, poet and novelist, born in Warracknabeal, Victoria (me too!), had been in Melbourne band The Birthday Party in the early 80s. Like that other Melbourne success story The Seekers, his career took off after moving to Europe.
From the 1986 album Kicking Against The Pricks.
---
"Les Francs-Juges" [opera] - Overture (1826)
Some listeners have heard an echo of Stenka Razin in this work, others are not convinced. Decide for yourself: Pop Meets the Classics has mp3 samples of the relevant works.
Thanks to Ostin Allegro at Pop Meets the Classics.