Recorded in the UK, produced by Shel Talmy, a track from the album Friday On My Mind, issued in the UK as Good Friday. It was also the B-side of Lay Me Down And Die, a double-charting single in Sydney in 1968.
The Easybeats were Australia's greatest pop export of the 60s, famous worldwide for their 1966 hit Friday On My Mind, but also responsible for an impressive repertoire of original pop songs, many of them hits in Australia.
Vanda and Young went on to continued success as producers, songwriters and performers (Flash and the Pan).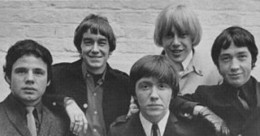 References: 1. Magnus Holmgren's Easybeats discography [archived]. 2. Chris Spencer et al, Australian Rock Discography 1956-1969. Further reading: 1. Review of the Friday On My Mind album by Katsutoshi Tanahashi from EasyFever [archived]. 2. Easybeats page at Aussie music site Milesago. 3. Interview with Shel Talmy at Richie Unterberger's site. 4. The No Nonsense AC/DC Webzine [archived page] outlined the achievements of the Young family, including George's brothers Malcolm and Angus of AC/DC. 5. See also Magnus Holmgren's Vanda-Young discography [archived].
Nina Simone - See Line Woman (1964)
Nina Simone's version was the first popular recording of this traditionally sourced song.
Track on the album Broadway-Blues-Ballads by difficult-to-categorise singer (1933-2003), born in North Carolina, with gospel, jazz, R&B and soul influences.
Further reading: 1. See-Line Woman at Mauro Boscarol's Nina Simone Database. 2. Other versions listed by Arnold Rypens at The Originals.
Christine & Katherine Shipp - See Lye Woman/Sea Lion Woman (1939)
Not strictly the original version, but probably the earliest recorded version.
The song is a traditional skipping rhyme, also known, for example, as See [the] Lyin' Woman or C-Line Woman.
The Shipps were fourteen-year-old sisters recorded in Byhalia, Mississippi, in 1939, a field recording by Herbert Halpert for the Library of Congress.
The recording of The Shipp Sisters was released by Rounder Records in 1997 on A Treasury of Library of Congress Field Recordings:
"Since 1928, Library of Congress fieldworkers have gathered thousands of American folksongs in farmhouses, prison barracks, and schoolrooms across the nation. Researchers traveled the back roads of the Delta, the Appalachians, and the Great Plains using battery-powered disc-cutting machines as they ventured beyond the grid of rural electricity." – Rounder Records website
The Shipps' recording was sampled in She Began To Lie, heard in the 1999 film The General's Daughter. [Amazon link]
---
The meaning of 'sea lion woman' is obscure. A discussion at Mudcat Cafe throws up several possibilities, including a biblical word frequently found in Psalms, 'Selah', the meaning of which is itself open to discussion (see JewishEncyclopedia.com and Wikipedia entry). One poster suggests that 'C-line' could have been code for part of the underground railroad (slave escape routes).
---
References: 1. Mudcat Cafe thread #33719, April-May 2001; 2. Lyrics and notes at Mudcat Cafe; 3. Review of A Treasury of Library of Congress Field Recordings at mustrad.org.uk; 4. Song history at The Originals by Arnold Rypens.
Further reading: Profile of Herbert Halpert, Folklore, October 2001.