Cheetah - Walking In The Rain (1978)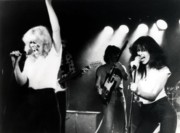 Single on EMI by sisters Chrissie and Lyndsay Hammond. Both sisters were experienced session singers, with careers of their own before Cheetah: Lyndsay was in Skintight, and Chrissie was in Jesus Christ Superstar and the original line-up of Air Supply.

Walking In The Rain
was produced by
Ian 'Molly' Meldrum
(see also
The Real Thing
), but they were later produced by ex-Easybeats
Harry Vanda and George Young
at Albert, where they recorded their 1981 album
Rock 'n' Roll Women
.
See Lyndsay Hammond's website for details of Cheetah and her own solo career. She released a solo album in 1997, The Raven, available at the website.
Chrissie Hammond has worked in London for some time, notably on the stage in Cats and on sessions for Rick Wakeman. See the Chrissie Hammond page at recollection.co.uk.
References: Ian McFarlane, Encyclopedia of Australian Rock and Pop; Chris Spencer et al, Australian Rock Discography and Who's Who of Australian Rock; LyndsayHammond.com.
---
The Ronettes - Walking In The Rain (1964)
Single on Philles, produced by Phil Spector.
To read about The Ronettes and Phil Spector, go straight to the source: Spectropop's Ronettes page, which will lead you elsewhere if you want more.
---
The Partridge Family - Walking In The Rain (1972)
On The Partridge Family Notebook. Single charted in UK 1973.
Band created for the TV series The Partridge Family featuring Shirley Jones and David Cassidy as members of a fictional Cowsills-style family band… who also had hits on the real charts, beginning with I Think I Love You (1970, #1 USA). David Cassidy, who played Keith Partridge on TV, also had a career as a teen idol in his own (non-fictional) name.
Further reading: For more than you will ever need to know see The Partridge Family Temple.

---
Flash And The Pan - Walking In The Rain (1977)
Same title but not the same song as 'Walking In The Rain' By Cheetah.
B-side of hit single Hey! St Peter (#2 Sydney, #4 Melbourne, #6 Brisbane, #5 Adelaide). Flash & The Pan were former Easybeats Harry Vanda and George Young, who were by this time highly successful producer-songwriters for Albert Productions in Sydney. They produced for Cheetah, but not their hit single of Walking In The Rain (see above, a different song).
This was the original version of the song released by Grace Jones in 1981 (#42 Sydney, #34 NZ).
---
The Walker Brothers - Walking In The Rain (1967)
The Walker Brothers were a Righteous Brothers-reminiscent trio of Californians working in the UK, none of whom was literally a Walker or a brother to the others. They were Scott Engel (who had a notable post-Walkers solo career), Gary Leeds and John Maus. Their biggest hits were Make It Easy On Yourself (1965) and The Sun Ain't Gonna Shine Any More (1966).
---
Jay And The Americans - Walking In The Rain (1969)
The last of ten charting US singles on United Artists 1962-1970 by New York pop band originally led by John 'Jay' Traynor, who was replaced early on by David Blatt, known as Jay Black. Full story at Tom Simon's Jay & The Americans page.
---
The Prisonaires - Just Walkin' In The Rain (1953)
Similar title but not the same song as 'Walking In The Rain' By Cheetah.
Recorded in Memphis for the Sun label by a vocal group from Tennessee State Prison, Nashville, co-written by leader Johnny Bragg (1926-2004). The other writer, Robert Riley, was also an inmate.
See Vocal Group Harmony for a label shot and 1954 article.
This was the original version of Johnny Ray's 1956 hit (#2 USA and #1 in UK, Sydney, Melbourne and Brisbane).