Single on Leedon by Melbourne pop band.
The Melbourne Crickets, formed in 1962, were apparently fine with the idea of using the same name as a famous American band still recording at the time.
In 1965 these Crickets won a Sydney and Melbourne bands competition, a precursor to the truly national Hoadleys Battle of the Sounds, first held the following year. As Battle of the Sounds historian Terry Stacey puts it, the "roughest, toughest sounding R 'n B groups" from Sydney and Melbourne were beaten by "an obscure MOR/latest hits/covers band". Recording a single was part of the prize package.
The Crickets were active till 1967 with guitarist Graeme Donovan present throughout. At the time of this recording, other personnel probably included guitarist John Guest, drummer Roger Panton, with Harvey Hutchingson or Gary Millington on bass.
Suggestion from Terry Stacey whose booklet The Battles of the Sounds is available here. See also his page on Hoadleys National Battle Of The Sounds at Milesago.
Reference: Chris Spencer et al, Who's Who of Australian Rock (5th edition, 2002), p.86.
---
The Shadows - That's The Way It Goes (1964)
Vocal track by Britain's star instrumental band of the 60s, on Columbia EP Dance With The Shadows No. 2, written by Shadows guitarists Hank Marvin and Bruce Welch.
---
Frank Ifield - That's The Way It Goes (1961)
Single on Columbia, written by rhythm guitarist Bruce Welch and lead guitarist Hank B. Marvin, both original and long-standing members of The Shadows.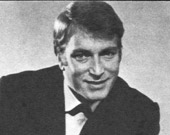 Born in England to Australian parents, Frank Ifield started his career in Australia but returned to England in 1959 where he was produced for Columbia by Norrie Paramor. At his website, he refers to himself as an "English born Australian".
Ifield's biggest hit was I Remember You (#1 UK & Australia, #5 USA), a 1962 revival of a 1942 movie song that was also his only US hit. It was followed by a series of hits in the UK and Australia, usually pop rearrangements of Tin Pan Alley or country standards,
More details at I Remember You.
Further reading: The informative official website.
---
Chubby Checker - That's The Way It Goes (1961)
Same title but not the same song as
'That's The Way It Goes' by The Crickets [Australia].
Single on Parkway, B-side of The Fly. See also Twenty Miles (1963), another Chubby Checker song written by Mann & Lowe, a 1965 hit in Australia by Ray Brown.
---

THAT'S THE WAY THE RED HERRINGS GO.
That's The Way It Goes is the title of many unrelated songs. This is a partial list of red herrings, and these are from the 50s and 60s only.
• The Harptones – That's The Way It Goes (Parker – Goldner – Cita)
USA 1956 single on Rama, B-side of Three Wishes
• Eddie Fisher – That's The Way It Goes (Al Stillman – Heino Gaze)
USA 1957 single on RCA Victor, B-side of Sayonara
• Durwood Daly – That's The Way It Goes (D. Haddock – Pat Haddock)
USA 1959 single on Caprock
• Wally Lewis – That's The Way It Goes (Wally Lewis)
USA 1959 single on Liberty, B-side of Every Day
• Ernestine Eady – That's The Way It Goes (V. Dozier)
USA 1963 single on Junior
• The Four Seasons – That's The Way It Goes (Bob Crewe – Bob Boulanger)
UK 1964 on Stateside EP The Four Seasons Sing
• The Mojos – That's The Way It Goes (James – Crouch)
UK 1965 single on Decca, B-side of Comin' On To Cry
• Matt Monro – That's The Way It Goes (Dennis King – John Junkin)
UK 1969 single on Capitol, B-side of All Of A Sudden
---