The Atlantics - I Put a Spell On You (1966)
By all accounts Sydney's Atlantics, formed 1961, could turn their hand to any style of pop music, from surf to garage. Their biggest hits were two original surf instrumentals that rank among the world's best of the era: Bombora YouTube and The Crusher YouTube (both 1963).
Vocals on I Put a Spell On You are by Johnny Rebb of Hey, Sheriff fame, who had joined with the Atlantics at this time, following the trend of instrumental bands acquiring a vocalist in the wake of the British Invasion. (See Bizarro Shadows World Down Under at The Blog.) From August 1963 sessions The Atlantics also backed Johnny Rebb on several solo singles, including his 1963 charting single Ain't I'm A Dog.
Also recorded in Australia by Adelaide band Travis Wellington Hedge (1967, Graham Gobles was a member, pre-Mississipi/LRB); and in New Zealand by The La De Das (1966).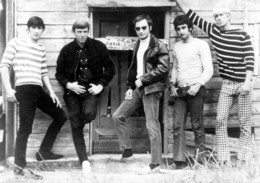 The Atlantics: Jim Skiatitis, Johnny Rebb,
Theo Penglis, Bosco Bosanac, Peter Hood.
Photo: Bosco Bosanac/The Atlantics.
---
Reference: 1. Ian McFarlane, Encyclopedia of Australian Rock & Pop.
Further reading: 1. Atlantics page at Milesago. 2. Wikipedia entry on The Atlantics. 3. Butcher Pete in Helsinki has an excellent Atlantics discography at his site.
Thanks to Stephen McParland for clarification.
Version alert and additional information from Terry Stacey.
---
Alan Price Set - I Put a Spell On You (1966)
Alan Price formed his Set after quitting as keyboardist with The Animals.
I Put A Spell On You was recorded by a number of 60s artists including Manfred Mann, The Animals, Them, The Crazy World of Arthur Brown, Fever Tree and The Five Americans.
---
Nina Simone - I Put a Spell On You (1964)
Recharted in UK in 1969 (#28)
Difficult to categorise singer (1933-2003), born in North Carolina, with gospel, jazz, R&B and soul influences.
The song is often identified with Nina Simone, and her autobiography was named after it.
See Mauro Boscarol's Nina Simone Web.
---
Screamin' Jay Hawkins - I Put a Spell On You (1956)
Singer and pianist from Cleveland, real name Jalacy Hawkins (1929-2000) whose R&B career started in the early 50s and morphed into a wild and macabre sub-genre of rock'n'roll after the release of I Put A Spell On You on the Okeh label in 1956.
Claims that I Put A Spell On You had been recorded as long ago as 1949 appear unfounded. Hawkins had recorded the song for Herb Slotkins's Grand label in 1955, in a more sedate ballad style, but these sessions were not released at the time (although they were issued on a 1991 CD, From Grand And Gotham). Herb Slotkins is sometimes given a writer credit for the song, but it is listed at BMI under Jalacy J. Hawkins alone.
Alternative title: Spell.
References: Posts by honeydhont and Joop Jansen to the Problemsolving Forum at The Originals website (discussion no longer online). Account at Screamin' Jay Hawkins His Golden Years (one page of a comprehensive site on SJH). SJH himself discusses the genesis of the record in a 1983 interview with Stuart Colman.
---
---
Creedence Clearwater Revival - I Put a Spell On You (1968)
Single on Fantasy label, Creedence's second single, also on their 1969 self-titled debut album.
Lengthy and – for the time – progressive version with an inventive arrangement.
---
Sonique - I Put A Spell On You (2000)
"British pop diva/deejay" (AllMusic Guide), also one half of S'Express. Track also on her debut album Hear Me Cry. Charted Top 10 in UK.
Nice to see Hawkins included in the writing credits!