Ted Mulry Gang - The Darktown Strutters' Ball (1976)
British-born singer-songwriter Ted Mulry (1947-2001) first became known through such sweet, melodic songs as his own Julia (1970) and Vanda & Young's Falling In Love Again (1970), but his career really took off in the mid-70s with the Ted Mulry Gang (later TMG), a rocking goodtime band familiar on TV's Countdown. See also Jump In My Car and So Much Love In My Heart.
Further reading: Ted Mulry page at Howlspace [archived].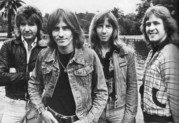 ---
[sheet Music] - The Darktown Strutters' Ball (1917)
First performed on stage by Benny Fields, Jack Salisbury & Benny Davis. Theme song of comedian Joe Frisco (1890s-1958), often parodied by the Marx Brothers.
Further reading: List of versions at The Originals.
This is the song quoted on the back of The Band's album The Band, also known as The Brown Album: 'I wanna be there when the band starts playing.' [Thanks to Dave Overett.]
---
Jelly Roll Morton - The Darktown Strutters' Ball (1938)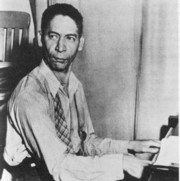 Recorded by folklorist Alan Lomax.
The lyrics of Darktown Strutters Ball apparently refer to another song, written in the early 1900s by Ferdinand "Jelly Roll" Morton: I'm goin' to dance off both my shoes,When they play those Jelly Roll Blues.
---
The Ivor And Basil Kirchin Band - Rockin' And Rollin' Thru The Darktown Strutters Ball (1956)
Father and son jazz musicians Ivor & Basil Kirchin get on the new-fangled rock 'n' roll bandwagon, single on Parlophone. The writer credit is to "Brook".
The Kirchins recorded in various styles under a number of band names. Son Basil (1927-2005) was a drummer, jazz experimenter and film composer. See the Guardian obituary [archived here].
Version alert from Terry Stacey.
Further reading: A Brief History of Basil Kirchin at TrunkRecords.com.
---
Joe Brown & The Bruvvers - The Darktown Strutters' Ball (1960)
Single on Decca, the first of eleven charting singles 1960-1973 by London singer, actor and entertainer Joe Brown (b.1943), some solo but most with The Bruvvers.
Joe Brown's biggest hits were A Picture of You (1962, #2 UK, written by Bruvver Peter Oakman with Johnny Beveridge), It Only Took A Minute (1962, #6, wr. Hal David & Mort Garson), and That's What Love Will Do (1963, #3, written by Trevor Peacock, later known as 'Jim Trott' in The Vicar of Dibley).
Look at it this way: A lot of people have idolised the Beatles, but who did the Beatles idolise? Joe Brown! – Jools Holland on Later With Jools (2008).
The Beatles appeared with Joe Brown in the early 60s, and his hit song A Picture Of You was apparently a favourite of the band and of their manager Brian Epstein. The Beatles did their own version – with George Harrison on vocals – on stage and on BBC radio YouTube. Harrison in particular was close to Joe Brown who appeared on two of Harrison's albums and featured in the 2002 Concert For George memorial (as did his daughter, the singer Sam Brown).
Further reading: 1. For more on Joe Brown's links with the Beatles and George Harrison, see (i) the 2003 discussion Beatles and Joe Brown at rec.music.Beatles and (ii) the Wikipedia entry on Joe Brown. 2. TheBruvvers.com [archived].
Thanks to Terry Stacey for version alert.
---
Frank Coughlan's Trocadero Orchestra - Darktown's Strutters' Ball (1937)
Early Australian jazz recording of Darktown Strutters' Ball on Prestophone, with unusual title variation.
Jack Mitchell's Australian Jazz on Record discography shows that this has been a favourite with Australian jazz musicians, who have released many versions of Darktown Strutters' Ball (also known as At The Darktown Strutters' Ball). Excluding several unreleased sessions, they have included:
The Barrelhouse Four (Hobart) 1946, on the Ampersand label
Graeme Bell & His Dixieland Jazz Band (Melbourne) 1946, Dawn Club
Graeme Bell & His Dixieland Jazz Band (Melbourne) 1947, Pacific
Keith Hounslow's All Stars (Melbourne) 1947, AWA (custom pressings)
Lazy Ade's Backroom Boys (Melbourne, Graeme Bell personnel), 1949 Swaggie
Southern Jazz Group (Adelaide) 1947, Memphis, Dawn Club
The Port Jackson Jazz Band (Sydney) 1948, John Mystery
Les Welch And Hiis Orchestra (Sydney) 1953, Festival
Wocka Dyer & His Bacchanalians (Melbourne) 1955, Swaggie, Banff
Lazy Ade (Monsbourgh) And His Late Hour Boys (Melbourne) 1956, Swaggie
Ray Price And His Port Jackson Jazz Band (Sydney) 1961, Pix
Billy Burton's Orchestra (Sydney) 1975, Axis
The Datsun Dixielanders (Melbourne) 1977, Jazznote
Adrian Ford's Big Band (Sydney) 1977 Hammard
Frank Traynor's Jazz Preachers (Melbourne) 1977, Rose Leaf
Pamela & Llew Hird (New Orleans) 1978, Stomperphone
Graeme Bell And Mr Bones (Sydney) 1979, Sea Horse
Reference: Jack Mitchell, Australian Jazz on Record 1925-80 (National Film & Sound Archive,1988).
Thanks to Dave Overett for spotting the Port Jackson Jazz Band version and setting off this train of thought.