British-born singer-songwriter Ted Mulry (1947-2001) first became known through such sweet, melodic songs as his own Julia (1970) and Vanda & Young's Falling In Love Again (1970). His career really took off in the mid-70s with the Ted Mulry Gang (later TMG), a rocking goodtime band familiar through TV's Countdown and such hits as Darktown Strutters' Ball (1976) and Jump In My Car. See also So Much Love In My Heart.
Further reading

: Ted Mulry page from Howlspace [archived page].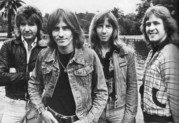 ---
Chris Spedding - Jump In My Car (1977)
On self-titled album on Rak label by British session guitarist with a dazzling range of entries on his CV.
On CD: Very Best of Chris Spedding.
---
David Hasselhoff - Jump In My Car (2006)
Recorded in Sydney by TV star of Knight Rider and Baywatch, produced by ex-Easybeat Harry Vanda, released by Sony Australia to coincide with an Australian tour.
These days, David Hasselhoff seems to provoke mainly hilarity in some quarters: see, for example, this reaction to the (Australian-made) video for Jump In My Car.
Still, Jump In My Car reached #3 on the British charts early in October 2006, which was nice for the folks at GetHasselhoffTo Number1.com. Don't you love that blurring of irony and adulation?

---
Men At Work - Jump In My Car (2000)
Live version on the album The Andrew Denton Breakfast Show Musical Challenge, from a Sydney radio segment in which well-known bands were asked to play a cover of an unlikely song. Details at Discogs.com.
Good-humoured Australian band Men At Work had a number of big hits at home and abroad in the first half of the 80s, including Who Can It Be Now? and Down Under, both of which peaked at #1 in the USA, as did the album Business As Usual (1982). Frontman Colin Hay, now a highly regarded solo singer-songwriter, performed Men At Work's USA #3 hit Overkill in the Scrubs episode My Overkill (2001).
---
Fester Fanatics - Jump In My Car (1989)
On the album Greatest Cocktail Party Hits. According to the Australian Metal Guide, the album was a collection of raucous and shambolic covers by a Sydney band known for their slapdash, none-too-serious approach to thrash metal. (Sounds like fun!)

References, further reading: 1. Fester Fanatics page at Australian Metal Guide. 2. Paul McHenry, Cover Me.