Single on Festival, also on Festival EP Double Trouble (1968). Peter Roberts (c.1948-2016) was advised to use the name Robbie Peters as he embarked on a late-60s solo pop career. Double Trouble was the most successful of four singles 1967-1968 that covered songs from a range of sources, including a pre-ABBA composition by Björn Ulvaeus.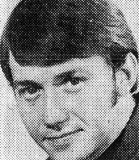 By 1979 when he joined notable soul-funk band Stylus (see Summer Breeze) as co-lead vocalist he had already reverted to Peter Roberts, under which name he followed a highly-regarded professional singing career. Peter Cupples of Stylus paid tribute to him as a man of immense talent, one of the very finest singers we've ever heard in this country.
References, further reading:
1. Posts by David Lillicot and Kim Challands at Milesago's Facebook group, 5 & 15 August 2019, and comments by Col Noble and David Eager. 2. Peter Cupples, tribute to Peter Roberts at Facebook, 2 November 2016. 3. David Johnston in The Music Goes Round My Head, (2010), pp.255, cites the singles of Robbie Peters to illustrate the diverse sources of Australian cover versions or remakes in the 1960s. 4. "Robbie's On The Way Up", Sun Herald (Sydney), 17 March 1968, (p.43 of 62 at Google News Archive), also posted by David Lillicot (see above).
---
The Brook Brothers - Double Trouble (1962)
Single on Pye, from the film It's Trad Dad (in USA: Ring-A-Ding Rhythm!), accompaniment directed by Tony Hatch. B-side of Just Another Fool (Goffin-King).
Graduates of the skiffle movement, The Brook Brothers were real brothers from Winchester. Their surname off stage was spelt Brooks, with an s, as in the writer credit. They were later known as The Brooks.
References, further reading: Brook Brothers bios at 45-rpm.org.uk, and at Wikipedia.
---
Bill And Boyd - Double Trouble (1962)
NZ chart data by Warwick Freeman
Bill Cate and Boyd Robertson started playing music together when they were at high school in Wellington. They recorded their first single in 1960 on New Zealand's Peak label, and released about twenty singles on Peak and Philips including covers of songs by The Everly Brothers, another duo with whom they are often compared.
In 1964 they charted in Australia with their own composition Chulu Chululu, recorded live at the Soundshell in Rotorua NZ (1964, #14 Sydney, #10 Melbourne, #1 Brisbane, #11 Perth). They moved to Australia and became increasingly popular in live venues and on TV pop show Bandstand. Their biggest hit came in 1975 with Santa Never Made It Into Darwin (#2 Australia), a song composed by Bill as a fund-raiser following the devastation of Darwin by Cyclone Tracey over Christmas, 1974.
References, further reading: Bill & Boyd bios by Bruce Sergent, and at Wikipedia. Also relevant is John Dix's New Zealand invasion of Australia – the 1960s and early 1970s at Audio Culture.