Single on Zodiac by New Zealand band best known in Australia for She's A Mod (1964). Their biggest New Zealand hit was Till We Kissed (1965).
Further reading: Bruce Sergent's Ray Columbus & The Invaders history.
Suggestion and versions from Terry Stacey.
Further version alerts from Philippe (avec mes remerciements) .
---
Bobby Freeman - C'mon And Swim (1964)
Single on Autumn by San Franciscan singer songwriter.
Bobby Freeman (1940-2017) had recorded as a member of doo-wop group The Romancers before writing and recording the original version of Do You Want To Dance (1958, #5 USA), well known through other notable versions (as Do You Wanna Dance).
Co-writer of C'mon And Swim is Sylvester Stewart, better known as Sly Stone of Sly And The Family Stone.
Further reading: Bobby Freeman biography by Dik de Heer at Black Cat's This Is My Story.
---
Leroy Jones - C'mon And Swim (1964)
Single on Hit, the Nashville budget soundalike label. (If you couldn't afford The Beatles' Please Please Me you could have the Hit version by The Boll Weevils for 49 cents.)
The name Leroy Jones was frequently seen on Hit singles, for example on their covers of When A Man Loves A Woman and It's A Man's, Man's, Man's World.
Some of the Leroy Jones records were recorded by Herbert Hunter. Soulful Kinda Music has a Herbert Hunter discography that includes C'mon And Swim, but points out that it is unclear which Leroy Jones records were by Hunter.
Reference: Hit label discography [archived page] from The Hit Records Project.
Further reading: My blog posts on budget soundalike labels which include links to further information.
---
The Lifeguards - C'mon And Swim (1964)
Track 1 on C'mon And Swim on Wyncote, a budget arm of Philadelphia label Cameo-Parkway. Wyncote often strayed into the budget soundalike territory of Hit (see above), for example with the The Liverpools subbing for The Beatles.
References: 1. Wyncote label history, commentary and discography at BSN.
---
Ray Anthony - C'mon And Swim (1964)
Track on Capitol album entitled Swim, Swim, C'Mon Let's Swim (on the front sleeve) or Swim, Swim, C'Mon And Swim (on the back sleeve and label). Bandleader and trumpeter Ray Anthony (b.1922, Raymond Antonini) was in the Glenn Miller Orchestra 1940-1941, its longest surviving member. YouTube
---
---
Lloyd Thaxton, With Orchestra Directed By Billy Strange - C'mon And Swim (1964)
Instrumental version on album Lloyd Thaxton Presents.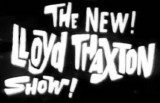 Radio and TV announcer Lloyd Thaxton (1927-2008), host of his own mid-60s TV pop show YouTube, sings on two tracks.
Billy Strange arranged the songs, wrote six of them, and conducted his own orchestra, with vocal backing by The Flowers on some tracks. In the liner notes, which cite the sound of the 40s as a benchmark, Billy Strange writes I am trying to present the top tunes with a swinging sound and a beat. YouTube
Three titles, including C'mon And Swim, appeared on a Billy Strange album with a similar concept, The James Bond Theme, also in 1964. It's a different recording of C'mon And Swim with a similar arrangement YouTube.
---
Martha Reeves & The Vandellas - C'mon And Swim
Recorded 1960s(?) released 2013
Previously unreleased track YouTube by Detroit vocal group, known as Martha & The Vandellas until 1967. They had twelve Billboard Top 40 singles, including Top 10 hits Heat Wave (1963, #4 USA), Quicksand (1963, #8), Dancing In The Street (1964, #2), Nowhere To Run (1965, #8), I'm Ready For Love (1966, #9), and Jimmy Mack (1967, #10), all on Motown's Gordy label.
C'mon And Swim was released on on Disc 3 (Sweeter Than Ever: Motown Lost And Found) of a multiple-CD package 50th Anniversary – The Singles Collection 1962-1972 (2013).
---
Enoch Light And His Orchestra - C'mon And Swim (1964)
Track on album Discotheque: Dance Dance Dance YouTube by classically trained violinist-conductor Enoch Light (1905-1978). Light created best-selling orchestral LPs, released on his own Command label, that were arranged and engineered to exploit the latest hi-fi stereo systems.
Further reading: Enoch Light at Spage Age Pop.
---
The Up - C'mon And Swim
1969-1972, released 1995
Track on retrospective Killer Up! (1969-1972) YouTube by Detroit band The Up, formed 1967, associates of MC5. The poet Allen Ginsberg is mentioned on the sleeve because of his participation in one track.
Further reading: "Proto-punks" The Up by Jason Ankeny at All Music.
---
The Teemates - C'mon And Swim (1964)
On Audio Fidelity album Jet Set Dance Discothèque Vol.4 YouTube.
This album and Enoch Light's could be aimed at a similar audience, perhaps a bit older and more affluent than the kids who put Bobby Freeman's 45 onto the charts. Both feature current music recycled for the audiophile listener, although the Teemates track has vocals. Note also both albums' use of the word discothèque some years before it was shortened for the 70s disco era.
THIS IS A DISCOTHÈQUE RECORD DESIGNED ESPECIALLY FOR YOUR DANCE DISCOTHÈQUE PARTY – Liner notes.