Single on Sunshine label, double-sided hit with Que Sera Sera.
Melbourne singer Normie Rowe became Australia's top teen idol of the late 60s and the star of Ivan Dayman's Sunshine label. He had a string of hits in Australia from 1965, recorded four singles in London, toured Britain and America, and even inspired a tribute song, Norman-Normie. After he was conscripted to serve in Vietnam he never regained his earlier 'King of Pop' status, but he re-established himself as a respected performer, especially on stage, starring in such productions as Les Miserables and Annie.
Further reading: Full biography at Milesago. The official site is at www.normierowe.com
---
The Guess Who - Shakin' All Over (1965)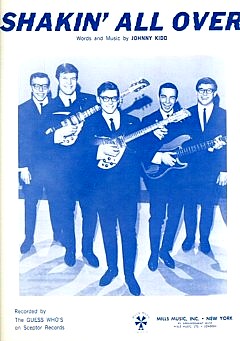 B-side on Quality (Canada 1965, also on Quality as Chad Allan 1964), single on Scepter (USA 1965) YouTube.
The Guess Who, originally from Winnipeg, were known as Chad Allan & the Expressions (previously The Reflections) until their label, Quality, released this single in a plain cover bearing the words "Guess Who?", apparently in the hope that it would encourage British Invasion fans to jump to conclusions about the identity of the band.
Two members became known for their post-Guess Who careers: Randy Bachman in Bachman-Turner Overdrive (You Ain't seen Nothing Yet) and lead singer Burton Cummings as a solo artist (Stand Tall).
This version peaked at #23 on Radio London's chart, 1 August 1965. (Thanks to Terry Stacey.)
---
---
Johnny Chester - Shakin' All Over (1962)
This was a favourite amongst Australasian artists in the 60s, recorded by The Blue Jays (1962), The Missing Links (1964), Ray Columbus & the Invaders (NZ 1965), Ray Brown & the Whispers (1965), Roland Storm & The Epics (1965 single).
---
See Paul Scott's 1998 post to rec.music.rock-pop-r+b.1960s, in which he discusses the influence of Johnny Chester's Shakin' All Over, often heard by a young Normie Rowe while performing at Preston Town Hall in Melbourne.
---
Johnny Chester: Melbourne singer, guitarist and songwriter who started out with the Chessmen in the late 50s, performing at dances he organised in the northern suburbs. Signed to Melbourne's W&G label, he had a number of Top 10 hits in Melbourne from 1961. He became a disc jockey with Top 40 station 3UZ in 1966, and built a successful national career in country music from the 1970s. His website is at www.johnnychester.com.
Thanks to Terry Stacey for extra information.
---
Johnny Kidd And The Pirates - Shakin' All Over (1960)
Ground-breaking British R&B band led by Johnny Kidd, real name Frederick Heath (1939-1966), and featuring Mick Green on lead guitar.
See detailed band history at johnnykidd.co.uk.
---
Mickey & Sylvia - No Good Lover (1956)
❝ Shakin' All Over's main riff borrows considerably from Mickey & Sylvia's No Good Lover ('56) ❞
– Arnold Rypens, 'Shakin' All Over' history at The Originals.
Mickey & Sylvia were McHouston 'Mickey' Baker and Sylvia Robinson (nee Vanderpool), prolific session musicians, songwriters and performers, best known for Love Is Strange (1956), which they co-wrote with Bo Diddley whose wife's name, Ethel Smith, was the songwriter credit on that single. Love Is Strange charted again in 1967 for Peaches & Herb.
---
Mickey & Sylvia wrote and recorded the original version of Oh Yeah Uh Huh, a big hit in Australia for Col Joye.
---
Further reading: Don't miss Brian Lee's extensive Mickey & Sylvia page which includes both a label shot and a RealAudio file of Oh Yeah Uh Huh. For Sylvia's later career, see the Sylvia Robinson Page at Soulwalking.