Noeleen Batley - Little Treasure From Japan (1964)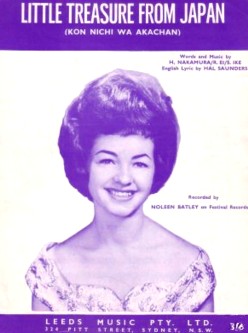 English version of Michiyo Azusa's Japanese hit Konnichiwa Akachan.
Single on Festival by Sydney pop star, known as 'Australia's Little Miss Sweetheart'. Noeleen Batley (b.1944) was most popular in Sydney, where she had nine charting singles 1960-1964, but her biggest hit was Barefoot Boy, an original release that was a hit all over Australia.
Little Treasure From Japan was released in Japan, and sold well enough for Noeleen to follow it up in 1965 with a Japanese-language record Owakare No Namida (Tears Of Farewell) and a promotional tour of Japan.

Reference: Noeleen Batley page at Milesago.
Suggestion from Terry Stacey.
Michiyo Azusa - Konnichiwa Akachan (1963)
Konnichiwa Akachan was released in Japan in October 1963 and released as a UK Decca single in 1964 (as Kon-Nichi Wa Akachan). The title means Hello, my baby or Hello, little one.
This is an original song, not a traditional lullaby as some sources suggest.
Michiyo Azusa appeared in the 1964 film Konnichiwa aka-chan (aka Good Morning, My Baby) which had original music by co-writer Hachidai Nakamura. It's reasonable to assume the song was in the film.
---
Lyricist Rokusuke Ei and composer Hachidai Nakamura also wrote Sukiyaki (Ue o muite aruko) (1961), a worldwide hit for Kyu Sakamoto in 1963, a much-recorded song first covered in the west as an instrumental and renamed Sukiyaki by Kenny Ball & His Jazzmen (#10 UK).
---
Michiyo Azusa had a track on Rockin' Tokyo, an early 60s LP of Japanese covers of American songs. See also Chi-Chico Teek.