Single on Leedon.
Johnny Devlin (b. 1938 in Raetihi)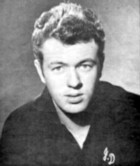 was a New Zealander who had been a pioneering rock'n'roll star in his home country. Devlin's New Zealand success was in covering American rock'n'roll, and his repertoire included a range of astutely chosen covers, many away from the mainstream. However, most of his charting Australian records were originals, usually written or co-written by himself.
Johnny Devlin had sixteen songs on the Sydney charts alone 1959-1965. His biggest hits were:
As a songwriter, credits also include:
Digger Revell & The Denvermen – My Little Rocker's Turned Surfie (1964, #9 Sydney, #16 Brisbane); and
Digger Revell's Denvermen – Surfside, written with (1963, #1 Sydney, #6 Melbourne).
Johnny Devlin also produced The Cicadas – That's What I Want (1964).
Johnny Devlin's Devils also recorded in their own right: see their charting single Teen Beat.
Additional details from Tony Watson and Terry Stacey, thanks.
---
Wayne Rooks - Chi-Chico Teek (1962)
Single on Capitol, co-written by songwriting maestro Jeff Barry.
Wayne Rooks released one single on Jamie in 1959, and two on Capitol in 1962.
BMI's database shows that Chi-Chico Teek is an alternative title for Chi Chica Chi.
---
Beni Sisters - Chi-Chico Teek
This appeared on Rockin' Tokyo, a Capitol LP of Japanese covers of American songs. See the liner notes and images at the Rockin' Tokyo feature at the Japanese Classic Oldies site.
This would be circa 1962, going by the vintage of the songs.
Another artist on the album is Michiyo Azusa, whose Konnichiwa Akachan was the source of Noeleen Batley's Little Treasure From Japan.
---
Vico Torriani - Chi-Chica-Chi (1962)
Single on German Decca by Swiss singer, actor and broadcaster Vico Torriani (1920-1998). He also worked in Germany, notably as compere of Der goldene Schuß, the German version of British game show The Golden Shot.
German lyrics by Hans Märten.
Further reading: Vico Torriani entries at Discogs.com and Wikipedia.