Mark Holden - Never Gonna Fall In Love Again (1976)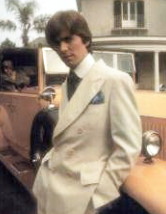 Single on EMI, also on the album Let Me Love You (1976).
Mark Holden's career defies the limits of the capsule biography. Born in Adelaide in 1954, he was a top pop star in Australia with regular appearances on Countdown and five hit singles 1976-1977. In the US he became known as an actor (Young Doctors), and for his association with many notable artists as a composer, producer and manager. In recent years he has been on Australian TV as an Australian Idol and X Factor judge, and he has also worked in various roles as a radio presenter. Along the way he completed his legal studies and now practises as a barrister in Melbourne.
References, further reading: 1. Ian McFarlane, Encyclopedia of Australian Rock & Pop (1999), p.160, pp 291-2. 2. Mark Holden at Wikipedia 3. Mark Holden filmography at IMDb.

---
Dana - Never Gonna Fall In Love Again (1976)
Dana – real name Rosemary Brown – came from Derry, Northern Ireland. She sang for Ireland with the 1970 Eurovision Song Contest winner All Kinds Of Everything.
Single on GTO, produced by Geoff Stephens. This version entered the UK charts in February 1976, three months before Eric Carmen's single charted in the USA.
Reference: Release details and label shot at 45Cat.com.

---
Eric Carmen - Never Gonna Fall In Love Again (1975)
Arista single, charted May 1976, from the 1975 album Eric Carmen. This was Eric Carmen's second single on Arista after All By Myself (1975, charted early 1976, #2 USA), also from Eric Carmen.
Carmen had been lead singer of Cleveland pop band The Raspberries whose Beatlesque Go All The Way was a #5 USA hit in 1972.
Further reading: Greg Prato's biography of Eric Carmen at All Music.

---
Sergei Rachmaninoff [composer] - Symphony No. 2 in E Minor [Op. 27] – 3rd Movement – Adagio (1908)

Written 1906-1907, first performed in 1908 in St Petersberg, conducted by the composer.
Eric Carmen's first hit All By Myself was based on another work by Rachmaninoff, the Piano Concerto No. 2 in C minor [Op. 18] – 2nd movement.
References: Listing at The Originals by Arnold Rypens
---
Tom Robinson With The Voice Squad - Never Gonna Fall in Love (Again) (1979)
Similar title but not the same song as 'Never Gonna Fall In Love Again' by Mark Holden.
1979 single. Also on co-writer Elton John's 1980 album 21 At 30.

Other Red herrings include Never Gonna Fall In Love Again (Like I Fell In Love With You) by Paul Anka (1977), Never Gonna Fall In Love Again by Samantha Fox (1986) and Never Gonna Fall In Love Again by Snow Patrol (2001): all different compositions. BMI lists five others not mentioned on this page. The Bacharach-David title I'll Never Fall In Love Again expresses the same sentiment, worded slightly differently, but BMI even lists over twenty examples of that title.
---
Magic – Featuring Tony Burrows - Never Gonna Fall In Love Again (1976)
Single on Bus Stop label, featuring the ubiquitous Tony Burrows.
Further reading: 1. Jay S. Jacobs, Tony Burrows The Greatest Singer Whose Name You've Never Heard at PopEntertainment.com 2. Label shot and other details at 45Cat.com. 3. Tony Burrows at Wikipedia.