Single on Columbia, B-side of All Or Nothing. In Brisbane, this was a double-sided hit.
Marcie & The Cookies were a popular vocal group, often on TV and on tour at home and abroad. They were Marcie Jones with sisters Margaret, Beverley and Wendy Cook.
Marcie & The Cookies are heard on Russell Morris's classic hit The Real Thing.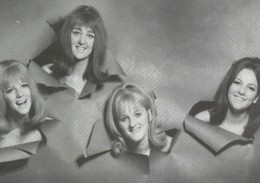 See also Marcie Jones – Armed And Extremely Dangerous (1973).
Further reading: 1. Marcie & The Cookies at Wikipedia. 2. MarcieJones.com 3. Marcie Jones page at entertainOZ.
Suggestion from Mike Anderson. Thanks to Terry Stacey.