M.P.D. Ltd - Walkin' In The Sand (1966)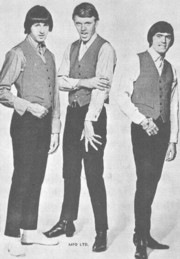 Double-sided hit in Melbourne with If You Were Mine.
Melbourne beat trio driven by a heavy rhythm section, formed in 1965. The 'M', the 'P' and the 'D' were for Mike Brady, Pete Watson and Danny Finley. Mike and Pete had met in Shadows-style band The Phantoms, and Danny had been drummer with another instrumental band The Saxons (see Pedro The Fisherman).
Mike Brady was later responsible for numerous well-known advertising jingles, and as one half of Two Man Band had a hit in 1979 with the Australian Rules football song Up There Cazaly YouTube.
See also Little Boy Sad, Lonely Boy and You Might As Well Forget Him.
Further reading: Paul Culnane's band history and appreciation of MPD Ltd at Milesago.
Suggestion from Mike Robbins.