Single on Clarion double-sided hit in Sydney, Melbourne, Adelaide and Perth with the A-side (Step Back, written by Stevie Wright & George Young of The Easybeats).
Re-entered Brisbane charts later same year, reached #32.
This Australian version changes Cara-Lin to Cara-Lyn.
Johnny Young: Western Australian singer, songwriter, radio announcer and TV compere, real name John De Jong. In later years he became best known for his long-running youth variety show Young Talent Time and the associated talent school, but his greatest claim to pop fame is for having written the Russell Morris classic The Real Thing.
---
The Strangeloves - Cara-Lin (1965)
The Strangeloves were production and songwriting team Bob Feldman, Jerry Goldstein and Richard Gottehrer, sometimes known as FGG Productions. Their biggest success had been with My Boyfriend's Back, written by Feldman, which FGG produced for girl group The Angels (1963, #1 USA).
The Strangeloves was a studio project, FGG's attempt at catching up with current British Invasion trends. For a variation on that, they invented an Australian back story for the band.
As Richard Gottehrer told Gary James at ClassicBands.com: We didn't think we could get away with being English. So we selected some other part of the former Empire and that was Australia. Most Americans in 1965 had never met an Australian.
The Strangeloves were photographed with somebody's idea of an outback look, with zebra skins and African drums. Wrong continent, mate, but they did end up with a hit song Down Under, thanks to Johnny Young.
Feldman, Goldstein and Gottehrer were mainly behind-the-scenes guys ("masquerading as a band" as Rob Finnis puts it). They needed a real band to back them on stage after their Strangeloves record I've Got Candy made the charts (1965, #11 USA). In this way they met a young band from Ohio that became The McCoys and had a big hit with Hang On Sloopy (1965, #1 USA), an FGG production. It was a Bert Berns–Wes Farrell composition, previously released by The Vibrations as My Girl Sloopy (1964, #24 USA).
Feldman, Goldstein and Gottehrer wrote and produced Sorrow, a McCoys B-side that was later rearranged to good effect by Britain's Merseys (1966, #4 UK) and famously remade by David Bowie for his album Pin Ups, also a hit single (1973, #3 UK).
The Strangeloves' I Want Candy was remade by Bow Wow Wow for a #9 UK hit in 1982.
References, further reading: 1. All three Strangeloves talk candidly about the Strangeloves project and their discovery of The McCoysin Bang! The Bert Berns Story (2016), co-directed by Berns's son Brett. Highly recommended. 2. Richard Gottehrer of FGG/The Strangeloves, interviewed by Gary James at ClassicBands.com. 3. Rob Finnis's account of FGG at the Ace Records website. 4. The Strangeloves at TimeTravelRecords.co.uk. 5. Bob Shannon on FGG and The Angels from his Behind the Hits website (archived page).
---
The Limeys - Cara-Lin (1966)
Single on Decca YouTube, anthologised on English Freakbeat Volume 2 (1989).
North London band The Limeys released singles in the UK and in the USA 1964-66. Because limey is American slang for an English person, it would be easy to take them for an American band attempting a British-sounding name (cf. The Buckinghams, The Sir Douglas Quintet). It's possible, though, that these Brits had the British Invasion of the US music market in mind.
The Radio London website lists personnel as Gary Gretch, Barry Johns, Tony Skey, Raymond Benot/Benoit and Gearie Kenworthy. Kenworthy later joined 60s British band The Knack on bass (not the more famous American Knack of the 70s).
See also That's What I Want.
Not to be confused with 1970s British band Limey.
References: 1. Limeys releases at 45cat. A comments thread at another Limeys page at 45cat has details of the Swinging 66 package tour for offshore station Radio England. The consensus there supports my impression that not much is known about the band. 2. Limeys personnel and brief notes at Radio London.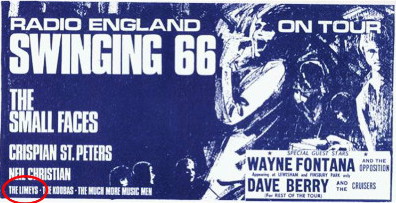 1966 Radio England tour, from the collection of Hans Knot, with thanks.
---
The Sorrows - Cara-Lin (1965)
Track on Take A Heart by Coventry R&B band, according to Richie Unterberger one of the most overlooked bands of the British Invasion (Sorrows biography at All Music Guide).
As Don Fardon, Sorrows vocalist Don Maughn went solo and had a hit with (The Lament Of The Cherokee) Indian Reservation (1968, #20 USA, reissued 1970 #3 UK), a John D. Loudermilk composition first recorded in 1959 as Pale Faced Indian by Marvin Rainwater.
See also No No No No.
Thanks to Andrew Ainsworth.
---
Les 5 Gentlemen - Cara-Lin (1966)
This French-language version is credited to original composer Jerry Goldstein and the band's vocalist-bassist Jean Fredenucci.
EP on Eddie Barclay's Riviera label by Marseille band formed 1964. They first toured and recorded under their original name Les Ambitieux, then as Les 5 Gentlemen 1966-68.
In 1967 they also released singles in English as The Darwin's Theory in Germany (on Arista and Riviera), Britain (on Major Minor), and the USA (on Atlantic's Atco label) before breaking up after their fifth French EP in 1968.
---
A couple of other European versions:
• The Victors (Denmark 1966, single on Jacks Beat Records) [YouTube]
• Carmichael System (France 1973, as Carolin, on Discothèque De Paris EP Fire Rock)
---
Sources, further reading: The 5 Gentlemen at Discogs.com and at French Wikipedia.
---
Brian - Cara-Lin (1969)
Brian Bastow (1944-2018) was a British-born singer whose family had migrated to Australia when he was 4 years old.
In 1966 Belgium-based band The Shake Spears recruited Brian after hearing him sing in a small club in Surfers Paradise in Queensland, Australia.
The Shake Spears were just finishing up nine months at a major Surfers Paradise venue, the Skyline Lounge. The booking had come about through the band's Australian saxophonist Ron Patton, a former Joyboy who had joined them in Brussels after winding up a tour with Roy Orbison.
Ron Patton stayed on in Australia, but Brian returned with the band to Belgium where they were establishing a successful career after migrating from Northern Rhodesia (Zambia) in 1965.
Brian sang on one Shake Spears single in Belgium, Candle / Jerk (1966) before going solo. He had several charting records in Belgium up until 1970, after which he appears to have returned to Australia, where he may have worked as a postman, possibly in Sydney.
Sources, essential reading: The stories are long and complicated but these two sources cover it all:
1. Shake Spears history at It's Psychedelic Baby Magazine. Extraordinarily detailed and wide-ranging account by Sarah Steffen with full discographies and timeline, and substantial recollections from band member Alan Escombe.
2.The Shakespeares En Belgique (1965-1969) at Belgian music history site Memoire 60-70.be is a detailed illustrated account that includes sections on L'Australie (The Surfers Paradise gig) and Brian Bastow, Nouveau Chanteur.
---
Cara-Lyn is collected on a 70s reissue album as Caralyn. The artist's name on the album is Gene Latter And The Shake Spears. Although Latter sang lead with The Shake Spears 1965-66, they were never billed in that way, and this appears to be more accurately a Gene Latter album.
---
Los Shain's - Cara Lin (1967)
On album Segundo Volumen by popular and prolific mid- to late-60s Peruvian band that took on influences from rock, surf, psychedelia, English beat bands, and traditional Peruvian music. They wrote a lot of their own material but also recorded cover versions that were valued by their Peruvian audience.
*The Spanish lyrics are possibly by prominent band member Gerardo Manuel who is co-credited alongside the English composers on other Los Shain's adaptations during this period (as Gerardo Rojas). See, for example, this Shain's single with ? and the Mysterians and The Sorrows both adapted by G. Rojas.
The apostrophe in Los Shain's is un-Spanish. I'm guessing it was a touch of English from a band that was influenced by The Beatles and other British Invasion artists.
See also No No No No by Los Shain's.
Further reading: 1. Los Shain's discography at Discogs.com. 2. Los Shain's at Spanish Wikipedia.
Gracias a Philippe por sugerir esta versión.
Et merci à Javier.