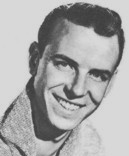 Single on Leedon, "with The Delltones". Johnny Rebb (b. Dellbridge), known as The Gentleman of Rock'n'Roll, was signed by EMI for one single on Columbia in 1958 before joining Sydney entrepreneur Lee Gordon's Leedon and Lee Gordon labels. His first Leedon release, a cover of Rusty And Doug's Hey Sheriff, released at the end of 1958, gave him his first charting single early in 1959. He became a regular on Johnny O'Keefe's Six O'Clock Rock, even filling in as host in JO'K's absence.
See also I Put A Spell On You by Australian surf instrumental band The Atlantics, recorded when Rebb had become their lead singer later in the 60s.
Johnny Rebb had been retired from the music business for many years when he died in July 2014.
---
This is not the Johnny Rebb who released at least one single on New Orleans label Flame in 1959.
---
Carl Perkins - Highway Of Love (1959)
Single on Columbia by influential rockabilly singer, songwriter and guitarist (1932-1998), a labelmate of Elvis Presley, Jerry Lee Lewis and Johnny Cash at Sun Records. Sessions at Sun by Perkins, Presley, Lewis and Cash from 1956 were later released as The Million Dollar Quartet.
Elvis had a hit with Perkins's Blue Suede Shoes, and the song from its B-side, Honey Don't, was on Beatles For Sale, along with Perkins's Everybody's Trying to Be My Baby. The Beatles also released a version of his song Matchbox.
The writers, Athena Hosey & Hal Gordon, also wrote Connie Francis's Someone Else's Boy, a B-side that charted outside the US after she recorded it in several languages. Hosey & Gordon also wrote and published sheet music for amateur lyricists, works that were often unrecorded, although they also organised low-budget recording sessions for some of them.
References, further reading: 1. On Carl Perkins see, for example, the Carl Perkins page at Rockabilly Hall of Fame. 2. On Hosey and Gordon, see discussion at 45cat, posts at Spectropop, and memoir by Warren A. Smith who ran independent studio Variety Sound Corporation with his partner Fernando Vargas (archived).