Johnny O'Keefe - You'll Never Cherish A Love So True (Until You Lose It) (1963)
Double-sided hit in Sydney and Adelaide with the A-side, the national hit Move Baby Move. Single on Leedon.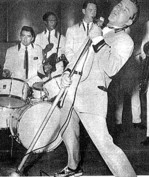 Johnny O'Keefe (1935-1978), known in Australia as The Wild One, The King of Rock'n'Roll or just J. O'K. was a pioneer Australian rocker, a chart topping artist in his home country.
The TV mini-series Shout! The Story of Johnny O'Keefe (1985) was adapted as a stage musical in 2001.
Further reading: Damian Johnstone's definitive J.O'K. biography The Wild One, 2001 (Google Books).
Thanks to Terry Stacey for suggestion and research.
The Vells - You'll Never Cherish A Love So True (Till You Lose It) (1962)
Single on Berry Gordy Jr's Mel-O-Dy label, a Motown subsidiary.
Some sources spell the group name as Vels but Vells is on the label.
The Vells had released a single on Chess subsidiary
Checkmate as The Del-Phis, a name they could not use here because they were still signed to Chess.
The group would soon become better known as Martha & The Vandellas, although The Vandellas did not include Gloria Williams, the lead singer on You'll Never Cherish A Love So True: she left the group when the record didn't take off.
Before their first big hit, Heatwave (1963. #4 USA), The Vandellas backed Marvin Gaye on Stubborn Kind Of Fellow (1962).
References: 1. Martha Reeves & The Vandellas discography at SoulfulKindaMusic.net. 2. Jay Warner, American Singing Groups, 2006 (Google Books). 3. Mel-o-dy discography and label shots at Seabear Studios.
See also Checkmate label and other Motown Related Labels at that site.
Further reading: Vandellas thread at Soulful Detroit discusses Gloria Williams and her decision to leave The Vells.