On EP Six O'Clock Rock Vol. 2.
Also on two other EPs, Move Baby Move (1963) and Ooh Poo Pah Doo (1964), as well as being anthologised on various LPs.
The song was a favourite live item for JO'K, especially on his TV shows, and for Billy Thorpe (see below).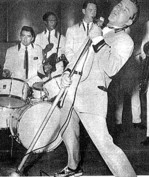 Johnny O'Keefe (1935-1978), known in Australia as "The Wild One", "The King of Rock'n'Roll" or just "J. O'K.", was a pioneer Australian rocker, a chart topping artist in his home country. The TV mini-series Shout! The Story of Johnny O'Keefe (1985) was adapted as a stage musical in 2001.
---
Given the history of the song, it seems unlikely that JO'K sang this in 1957 while on tour with Little Richard, as has been claimed.
---
Reference: Damian Johnstone, The Wild One (2001). Thanks to Terry Stacey for research.
---
Jessie Hill - Ooh Poo Pah Doo – Parts I & II (1960)
Single on Minit released February 1960. It was Part II, an instrumental with David Lastie on sax, that charted in the USA.
The song, copyrighted in March 1960, was adapted from a live performance by a pianist known only as Big Four, who played for tips in a New Orleans bar. Jessie Hill added "an intro cribbed from Dave Bartholomew" and performed it live and on a demo before this record was cut. It was arranged and produced by New Orleans legend Allen Toussaint, his first hit production. See the full story by Jason Ankeny at All Music Guide.
The title is reminiscent of Oop-Pop-A-Da, best known in its version by Beebop jazz man Dizzy Gillespie: The Originals website suggests it as an influence. From the early 30s, the catchphrase Boop-Oop-A-Doop was familiar through cartoons and songs featuring the character Betty Boop. And where do Alley Oop and Doowop come into all this? Some linguist oughta write a thesis…
---
Ike & Tina Turner - Ooh Poo Pah Doo (1964)
Single on United Artists label.
Ooh Poo Pah Doo is a much-recorded song. There were versions, for example, by Etta James, Paul Revere & The Raiders, Jimmy Smith, The Shirelles and Rufus Thomas. Taj Mahal has a version on his 1996 album Phantom Blues. I have identified about thirty 45s alone with this title that were issued throughout the 60s.
---
---
Billy Thorpe & The Aztecs - Ooh Poo Pah Doo (1972)
On the LP Live At Sunbury on Havoc label.
Further live versions were released by Billy Thorpe on Steaming At The Opera House (1974, on Atlantic) and Lock Up Your Mothers (1994, on Mushroom, recorded at the Myer Music Bowl).
More recently, Ooh Poo Pah Doo turned up on the live video of the Long Way to the Top revival tour (2002). Billy Thorpe also performed it at the Ted Mulry Benefit Concert in 2003.
Billy Thorpe (1946-2007): British-born singer, guitarist and songwriter whose family emigrated to Brisbane in the 1950s. Based in Sydney from 1963, 'Thorpy', with The Aztecs, had numerous pop hits in a variety of styles, but at the end of the 60s, then in Melbourne, he fronted a loud, rocky, blues-based formation of the Aztecs that contrasted with his earlier pop idol image. Later, his solo and business career took him to Los Angeles, and he wrote two popular autobiographical books, Most People I Know (Think That I'm Crazy) and Sex And Thugs And Rock'n'Roll [AbeBooks link].

Further reading: Paul Culnane's account of Billy Thorpe's career at Milesago.
---
The Canadian Rogues - Ooh Poo Pah Doo (1967)
Single on Palmer by garage band from Lakeland, Florida. Full history at Dizzy Rambler Online.