Released on Liberty in the US (late 1959) and on Leedon in Australia (April 1960). Recorded at Gold Star Studios in Los Angeles, produced by Snuff Garrett.
In the US It's Too Late was the B-side of She's My Baby, also from the Liberty sessions.
Johnny O'Keefe (1935-1978) was Australia's biggest star of the rock'n'roll era, known as The Wild One, The King of Rock'n'Roll or just J. O'K.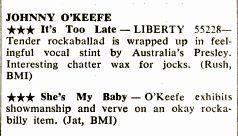 Billboard, 25 January 1960, via Google Books.
Further reading: Damian Johnstone's definitive J.O'K. biography The Wild One, 2001 [Amazon
].
Thanks to Terry Stacey for suggestion and initial research.
---
Chuck Willis - It's Too Late (1956)
Single on Atlantic by R&B singer and much-covered songwriter, born Harold Willis (1928-1958).
Chuck Willis first appeared on the R&B charts in the early 50s. He later crossed over to the pop charts, notably with his blues adaptation C.C. Rider (1957, #12 USA), and with his composition I Feel So Bad, first recorded by Willis but a hit for Elvis Presley (1961, #5 USA).
Chuck Willis became known as The King Of The Stroll through C. C. Rider's association with the dance.
Further reading: Chuck Willis entries at All Music Guide and Wikipedia.
---
Roy Orbison - It's Too Late
USA 1956 (recorded)
USA 1961 (released) on Sun LP #1260 Roy Orbison At The Rock House, an album of material recorded for Sun before Orbison found success with the Monument label.
---
The Crickets - It's Too Late (1957)
Track on Brunswick album The "Chirping" Crickets. Later reissued on Coral with the group billed as Buddy Holly & The Crickets.
Reference: Wikipedia listing of the album.
---