Johnny O'Keefe - I'm Counting On You (1961)
Single on Leedon August 1961.
Johnny O'Keefe (1935-1978), known in Australia as "The Wild One", "The King of Rock'n'Roll" or just "J. O'K.", was a pioneer Australian rocker, a chart topping artist in his home country. A TV mini-series about his life was made in 1985, Shout! The Story of Johnny O'Keefe. The definitive biography is Damian Johnstone's The Wild One (2001).
Alicia Evelyn, a prolific songwriter, wrote Pepper-Hot Baby, a #12 hit in the USA in 1955 for Jaye P. Morgan, and she co-wrote, with Van McCoy, Jackie Wilson's I Get The Sweetest Feeling (1968, #34 USA).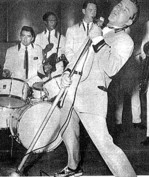 Johnny O'Keefe visited Alicia Evelyn in New York after hearing I'm Counting On You being played on a piano in the offices of Aaron Schroeder Music. The two met again, with Johnny's wife Maureen, in New York in 1973, and Alicia Evelyn visited the O'Keefes in Sydney in 1975, when she took part in the Johnny O'Keefe episode of This Is Your Life.
Johnny O'Keefe also recorded Alicia Evelyn's I Thank You and Heaven Sent in 1962. At least two other Alicia Evelyn compositions were recorded in Australia in the 60s: Dee-dee Darling (Dig Richards, 1961) and I Have To Laugh (Tony Brady, 1962).
Reference, further reading: On the friendship between the O'Keefes & Evelyn: Damian Johnstone, The Wild One: The Life and Times of Johnny O'Keefe (2001).
Suggestion from Terry Stacey.
---
Johnny Nash - I'm Counting On You (1961)
Single on ABC-Paramount July 1961.
This appears to be an uncredited production by Phil Spector.
Sources claiming that it was a recording of Don Robertson's I'm Counting On You, a different song, are in error (see below).
Thanks to Tony Watson.
On Phil Spector, see Nov 2005 posts at Spectropop Group, Digest 2137. It is listed as a Spector production in Dave Thompson's Phil Spector: Wall Of Pain (2010) but marked as "unconfirmed involvement".
---
Elvis Presley - I'm Counting On You (1956)

SAME TITLE BUT NOT THE SAME SONG AS 'I'M COUNTING ON YOU' BY JOHNNY O'KEEFE.
On the 1956 RCA album Elvis Presley YouTube. Also recorded, for example, by Kitty Wells (1956).
Further reading: Songwriter Don Robertson tells the story behind this song at donrobertson.com. He is mistaken on one point: the song recorded by Johnny Nash was Alicia Evelyn's I'm Counting On You, not Don's song of that title.
---
Freeman Brothers - I'm Counting On You (1964)

SAME TITLE BUT NOT THE SAME SONG AS 'I'M COUNTING ON YOU' BY JOHNNY O'KEEFE.
Single on Mala #485, also released on Mala #553 in 1967. YouTube
On CD: Anthologised on Kent's Birth Of Soul Vol. 2.
---
Petula Clark - I'm Counting On You (1962)
Single on Pye, also on Vogue (France) EP Chante en Anglais (1964).
This is the same song as Johnny O'Keefe's Australian hit. The songwriter is given as Charles Kipps, and a song by this title appears in his repertoire at BMI. The title does not appear in Alicia Evelyn's repertoire at BMI.
There doesn't seem to be any doubt that Alicia Evelyn wrote the Johnny O'Keefe song, and she is also credited on the Johnny Nash single, so there appears to be an error in documentation somewhere along the way.
Petula Clark's version appears on the 2002 Sanctuary album Wallpaper of Sound: The Songs of Phil Spector and the Brill Building, compiled by Mick Patrick and John Reed. See the review at Spectropop Recommends.
Version alert from David Overett.
---