Single on Leedon, on Australian charts December 1962-April 1963.
Written by US songwriter Alicia Evelyn, who also wrote Johnny O'Keefe's #1 hit I'm Counting On You (1961). I Thank You's B-side was another Alicia Evelyn composition, Heaven Sent.
Alicia Evelyn, a prolific songwriter, wrote Pepper-Hot Baby, a #12 hit in the USA in 1955 for Jaye P. Morgan, and she co-wrote, with Van McCoy, Jackie Wilson's I Get The Sweetest Feeling (1968, #34 USA).
Damian Johnstone notes in The Wild One that Alicia Evelyn passed I Thank You on to Johnny O'Keefe after the success of I'm Counting On You.
At least two other Alicia Evelyn compositions were recorded in Australia in the 60s: Dee-dee Darling (Dig Richards, 1961) and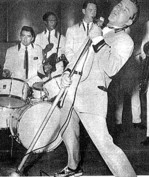 I Have To Laugh (Tony Brady, 1962).
Johnny O'Keefe (1935-1978), known in Australia as "The Wild One", "The King of Rock'n'Roll" or just "J. O'K.", was a pioneer Australian rocker, a chart topping artist in his home country.
The TV mini-series Shout! The Story of Johnny O'Keefe (1985) was adapted as a stage musical in 2001.
Reference: Damian Johnstone, The Wild One (2001).
Thank you to Aaron Betts for further research confirming that this is the original version.
The Velveteens - I Thank You (1961)
Same title but not the same song as 'I Thank You' by Johnny O'Keefe.
Written by Charles Stark Liddell, published by Liddell Publishing. Originally released on Stark label #105, 1961, then on Laurie #3126 1962.
Also recorded by The Tymes, on The Sound Of The Wonderful Tymes, 1963.

Lionel Rose - I Thank You (1969)
Same title but not the same song as 'I Thank You' by Johnny O'Keefe.
Single on Festival by aboriginal boxing champion from Gippsland in Victoria. Lionel Rose MBE (b. 1948), Australian of the Year 1968, famously won the world bantamweight championship over Japan's Fighting Harada in February 1968.
Written by Johnny Young: see The Real Thing, another Johnny Young composition, and Johnny Young's own recordings, for example Cara-Lyn.