Single on Festival, recorded at Armstrong Studios, Melbourne.
Co-charted (March 1974) in Sydney, Melbourne and Brisbane with the Carly Simon-James Taylor version.
Far from being derived from the Simon-Taylor record, the O'Keefe-McLaren Mockingbird was recorded in October 1972 and released in mid-1973. It charted in Adelaide in November 1973, a couple of months before Carly Simon's version was released.
In fact, O'Keefe believed that the Simon-Taylor recording was inspired by his version after Festival Records submitted it to a number of American record companies. When the American record was released, O'Keefe campaigned to have his version given at least equal airplay on Australian radio, to the extent of lobbying the Minister for Media and the Broadcasting Control Board. (Damian Johnstone, The Wild One, 2001, pp 260-263.)
Johnny O'Keefe had been performing Mockingbird live at least as long ago as 1963 (though not, we must assume, in 1956 as you may read elsewhere).
In October 1963 the Sydney Morning Herald reported that Johnny O'Keefe would be singing Mockingbird with visiting British singer Alma Cogan on the next edition of O'Keefe's Sing Sing Sing.[Google Newspaper Archive]
There is a video at YouTube of JO'K and Del Juliana performing Mockingbird together, also well before the duet with Margaret McLaren. YouTube
For more on Johnny O'Keefe, Australia's King of Rock'n'Roll see, for example his signature song The Wild One or browse his songs from the Artists page.
In 1971 Margaret McLaren was singing in residency at a Dandenong hotel with Melbourne band Phase 2 when they were hired to back Johnny O'Keefe on a tour of Victoria. The band later became O'Keefe's permanent backing band, and McLaren was featured as a solo singer in JO'K's shows. After their 1973 tour with Bill Haley, she left to marry O'Keefe's sound engineer John Greene.
Margaret McLaren did not release any other records. In the 80s she was in Melbourne band Vocamotion, performing regularly at the Lemon Tree Hotel, Carlton, and other venues.
For more about Margaret McLaren's time with Johnny O'Keefe, including details of the difficulties around her resignation, see Damian Johnstone's The Wild One: The Life and Times of Johnny O'Keefe (2001)
Thanks to Terry Stacey.
---
Inez Foxx - Mockingbird (1963)
Single on Symbol, #919. Inez & Charley Foxx were brother and sister, from Greensboro, North Carolina.
The artist name is usually listed or reissued as Inez & Charley Foxx, but the original single shows simply Inez Foxx. Other pressings of Symbol 919 show Inez Foxx, accompaniment by Charlie Foxx. (The spelling can be Charlie or Charley, even among different Symbol pressings.) Details and discussion at 45cat.
*Charted in UK in 1969 on reissue.
Lyrically indebted to a traditional rhyme (below).
Also recorded, for example, by Martha & The Vandellas (1963), Dusty Springfield (1964), and Aretha Franklin (1967).
---
[traditional] - HUSH LITTLE BABY (aka MOCKING BIRD)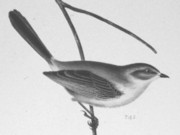 This traditional lullaby, possibly traceable to the West Virginian Appalachians, may be as old as the 18th Century.
Apart from Inez Foxx's Mockingbird, the most familiar reworking of the Hush Little Baby lyrics in popular song is in Bo Diddley's 1955 song Bo Diddley: Bo Diddley bought his babe a diamond ring / If that diamond ring don't shine… YouTube
Hush Little Baby has also appeared as Hambone, sung a cappella to a thigh slapping African-derived beat, the same 'shave-and-a-haircut… two-bits' used by Bo Diddley in his version. Arnold Rypens unravels the history of Hambone, Bo Diddley and variations at The Originals.
Ray Brown's Australian hit Fool Fool Fool, written by Rudy Clark, also uses the Hush Little Baby lyrics: First I bought my love a mockingbird…
Rap star Eminem in Mockingbird charmingly varies the lyrics so that Daddy's going to "break that birdie's neck" if it doesn't sing (2004, not the Inez Foxx song).
These are the traditional lyrics, from Baring-Gould & Baring-Gould, The Annotated Mother Goose (1962):
Hush, little baby, don't say a word,
Papa's gonna buy you a mocking bird.
If the mocking bird won't sing,
Papa's going to buy you a diamond ring.
If the diamond ring turns to brass,
Papa's going to buy you a looking-glass.
If the looking-glass gets broke,
Papa's going to buy you a billy goat.
If the billy goat runs away,
Papa's going to buy you another today.
Thanks to Joop Jansen & honeydhont via The Originals.
Photo: US National Oceanic and Atmospheric Administration
---
Carly Simon With James Taylor - Mockingbird (1974)
Single on Elektra, January 1974.
Co-charted in Sydney, Melbourne and Brisbane with Johnny O'Keefe's version which was released a few months before Carly Simon's release (see above).
Also recorded by The Belle Stars (1983), Taj Mahal (with Etta James, 1993), and US country singer Toby Keith with daughter Krystal (2004), among others.