Sandy Nelson - Teen Beat (1959)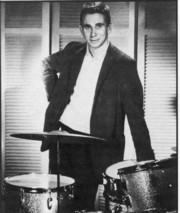 Single on Original Sound, then on on major label Top Rank, an instrumental featuring lead guitar built around the drumming of Sandy Nelson.
This was the first of Nelson's three charting singles in the USA, followed by Let There Be Drums (1961, #7 USA) and Drums Are My Beat (1962, #29 USA), both on Imperial.
Thanks to Tony Watson.