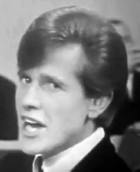 Singer-guitarist-producer Jimmy Murphy (Jimmie on this single) was lead guitarist with New Zealand band Freddie Keil & The Kavaliers.
He and his sister performed and recorded in New Zealand and Australia as Anne And Jimmy Murphy before working in the US where they were also known as The Murphys. In Australia they appeared on Bandstand and were signed by Sven Libaek who produced one of their singles.
Country singer Jamie O'Neal is Jimmy Murphy's daughter.
Further reading: 1. Jimmy Murphy facts and photos at AudioCulture's page on Freddie Keil & The Kavaliers. 2. Anne & Jimmy Murphy videos at YouTube: search results.
Col Joye & The Joy Boys - (Making Love On A) Moonlit Night (1960)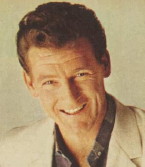 COL JOYE
Vocal
With the Joy Boys and the
Graduates
---
Single on Festival, also on Festival in New Zealand. YouTube
(Making Love On A) Moonlit Night was written by the American songwriter, music director and label owner Frank McNulty. Col Joye's first hit had been with McNulty's Bye Bye Bye Baby (1959), aka Bye Bye Baby (Goodbye), and he later recorded at least one more McNulty composition, Gonna Leave Tomorrow (1964, #32 Sydney). Judy Stone's B-side Lost Without You (1967) was written by McNulty.
For more on Col Joye and Frank McNulty, see Bye Bye Baby.