Single on Kommotion, a Melbourne label, February 1966. Backing by The Vince Maloney Sect, led by future Bee Gees guitarist Vince Melouney (see career chronology, archived from starclustermusic.de).
Multi-skilled entertainer Greg Anderson (b.1950) started out as an infant in his parents' international whip-cracking act. By the time he became a teenaged pop singer in the mid-60s he had already been appearing regularly on Melbourne television for several years. He was still performing into the 2000s, billed as Australia's Electric Cowboy.
Anderson's only charting single was with his own composition, No Roses For Michael (1970, #34 Sydney, #4 Brisbane, #4 Adelaide), from the Nine Network TV film of the same name.
References, further reading: 1. The Greg Anderson page at Milesago has a detailed career biography and discography. 2. Greg Anderson biography at GalaOrganisation.com.
Thanks to Dunks at Milesago for suggestion and research.
---
---
---
James Brown - I Got You (I Feel Good) (1965)
Not to be confused with 'I Feel Good' by Greg Anderson.
Single on King, James Brown's biggest hit on the US pop charts.
---
Chants R&B - I Feel Good
1966, released 2008
Live performance, recorded October 1966, unreleased until Norton Records' vinyl album Chants R&B (2008)
Christchurch band, originally known simply as Chants, resident at Christchurch venue The Stage Door. Late in 1966 the band moved to Melbourne where they broke up a few months later. A notable founding member was Mike Rudd, later with Australian bands Party Machine, Spectrum, Ariel and Mike Rudd & The Heaters.
See also Early In The Morning.
References: 1. David Johnston, The Music Goes Round My Head (2010), p. 111. 2. Chants R&B page at Bruce Sergent's NZ music site.
Further reading: 1. ChantsRandB.com [archived site] 2. Story of Chants R&B in Melbourne at MikeRuddBillPutt.com. See also reminiscences by fans of Chants R&B.
Thanks to Andrew Ainsworth for version alert.
---
Larry's Rebels - I Feel Good (1966)
Single on Impact December 1966.
Popular band, from Ponsonby in Auckland, often in the New Zealand Top 10 in the late 60s. Vocalist Larry Morris later went solo and had six singles on the NZ charts 1969-1983 including The Hunt (1969, #5 NZ) and The Game (1970, #8 NZ).
See also Larry & The Rebels' Mo'reen, Painter Man, It's Not True and I Feel Good; and The Rebels' My Son John
Further reading: 1. The Larry's Rebels page at Bruce Sergent's New Zealand music website. 2. Larry Morris interview with Murray Cammick at NZ music website Audio Culture (January 2016). 3. Larry's Rebels profile at Audio Culture.
Thanks to Terry Stacey for version alert, and to Larry himself for correction.
---
Citizen Band - I Feel Good (1978)
Single on Mandrill by New Zealand band formed by brothers Jonathan Michael (Mike) & Geoff Chunn, both of whom had been significant in the early history of Split Enz. The drummer from Citizen Band, Brent Eccles, joined Australian band The Angels in 1981.
Produced by Mandrill's owner Glyn Tucker (b.1945, aka Glyn Conway), himself a guitarist, singer and songwriter, a former member of The Embers and The Gremlins and other bands. He became a prolific producer after a musical career that began in the late 1950s.
Also on 1978 album Citizen Band and on 1980 live album Bootleg.
References, further reading: 1. Audioculture's image-rich page on Citizen Band. 2. Pages at Bruce Sergent's site: The Embers, The Gremlins, Citizen Band and Split Enz. 2. Wikipedia: Citizen Band, Split Enz, Mike Chunn and Geoff Chunn. 3. Pages on Glyn Tucker and the Mandrill label at Audioculture: highly recommended.
---
The Kuhtze Band - I Feel Good (1987)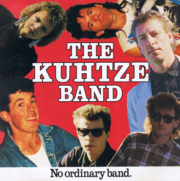 On EP No Ordinary Band on CBS (NZ).
This was sponsored by major New Zealand brewing company DB. The promotion was for Joseph Kuhtze Lager, named after the 19th century Bavarian-born brewer whose son W. J. Coutts co-founded Dominion Breweries, now known as DB.
Personnel:
Tony Waine, bass (earlier with The Narcs);
Paul Dunningham, drums (Coup D'Etat, Hello Sailor, Mi-Sex);
Andy Dickson, guitar (The Narcs);
Simon Alexander, keyboards (Chrome Safari);
Kim Willoughby, vocals (Gurlz, later with When The Cat's Away).
---
Gavin Burgess Band - I Feel Good (1997)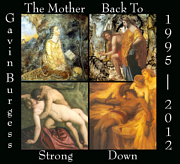 Live performance at the Whangaehu Festival, 1997 YouTube. Material from the festival was included on Burgess's The Mother Back To Strong Down 1995-2012, an album of new and archival material.
Gavin Burgess is a writer as well as a songwriter, multi-instrumentalist, studio engineer/producer, and an archivist of New Zealand recordings (AudioCulture). One of his areas of interest is the music of the Whanganui region. His website is at Gavland.co.nz
Personnel (1997):
Gavin Burgess, guitar, vocals;
David Rogerson, guitar (earlier with Smart Artz);
Neville Messent, drums;
Murray Loveridge, bass (Quincey Conserve).
Thanks to Gavin Burgess for version alerts and related data on Citizen Band, The Kuhtze Band, and Gavin Burgess Band.
---
Shirley & Lee - I Feel Good (1956)
Same title but not the same song as "I Feel Good" by Greg Anderson.
Single on Aladdin by New Orleans singer Shirley Goodman (1936-2005) with the song's composer Leonard Lee (1936-1976). Their other charting single was Let the Good Times Roll (1956, #20 USA), a Goodman-Lee composition.
Shirley reappeared on the Top 40 in 1975 with Shame, Shame, Shame by Shirley (And Company) (#12 USA, written by Sylvia Robinson of Mickey & Sylvia).

Catching red herrings: Last time I looked, BMI repertoire had 131 listings for the title I Feel Good; ASCAP had over 70.