Dig Richards - The Love Express (1963)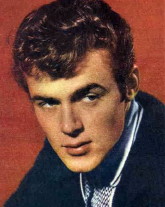 Single on Festival by prolific and versatile Australian rock and pop star. YouTube
Dig Richards (1941-1983) also known by his full name Digby, was in the charts from 1959 through to the 70s. An early rocker on the Australian scene, he later aimed for a broader audience with his own songs and a more country style.
► See also Comin' Down with Love (1960), Raincoat In The River (1962), Comin' Down (1963), Rock And Roll (I Gave You The Best Years Of My Life) (1974); Play Momma Play (1978).
Essential reading: Dig Richards biography by Peter Colin Ramsey & Ed.Nimmervoll [archived page from Howlspace].
Image: Dig Richards, 1959.
The Velvets Featuring Virgil Johnson - The Love Express (1962)
Single on Monument YouTube by vocal group formed in Odessa, Texas, by high school English teacher Virgil Johnson (1935-2013) with four students. With the support of Roy Orbison, they were signed to Monument, a Nashville label, and recorded their only hit, Johnson's composition Tonight (Could Be The Night) (1961, #26 USA YouTube).
The Velvets recorded the original verson of Lana, co-written by Orbison whose own version was on his album Crying (1961) and on a 1966 single that was a hit in Britain and Australia.
The writers:
Composer Clint Ballard Jr (1931-2008) released a few records as Buddy Clinton and under his own name 1959-1962, but he was more successful as a songwriter. His compositions (music and lyrics) include:
• Good Timin' (Jimmy Jones, 1960, #3 USA);
• The Game of Love (Wayne Fontana and The Mindbenders, 1965, #2 UK, #1 USA);
• I'm Alive (The Hollies, 1965, #1 UK);
• You're No Good (Dee Dee Warwick 1963, original version; The Swinging Blue Jeans 1964, #3 UK; Linda Ronstadt 1975, #1 USA; many other versions).
► See this list of Clint Ballard Jr compositions at Wikipedia.Roy Alfred (1916-2008) flourished as a lyricist from the 40s to the 60s. In 1949 he wrote words to an instrumental track, The Hucklebuck, that later became a hit for Chubby Checker (1960, #14 USA), and by Brendan Bowyer in Ireland (1965, #1) and Australia (1965, #1 Melbourne Brisbane Adelaide, #3 Sydney, #8 Perth). Alfred's better known works also include Rock and Roll Waltz by Kay Starr (1955, #1 USA, #1 UK, charted 1956), and Let's Lock the Door (And Throw Away The Key) by Jay and the Americans (1964, #11 USA).
► See the lists at SecondHandSongs and MusicVF for an appreciation of Roy Alfred's output (via Wikipedia).
Ernie Maresca - Love Express (1963)
SAME TITLE BUT NOT THE SAME SONG AS
'LOVE EXPRESS' BY DIG RICHARDS.
Single on Seville by New York singer, songwriter and producer who had a hit with Shout! Shout! (Knock Yourself Out) (1962, #6 USA), and wrote his friend Dion's hits The Wanderer and (with Dion) Runaround Sue.

Some other red herrings:
• Dave Appell And His Applejacks – The Love Express (Medley-Gold)
USA 1955 B-side on President.
• Terry & The Mellos – Love Express (Ted Tyle)
USA 1960 B-side on Amy.
• Len Weinrib – Love Express (Feldman, Goldstein, Gottehrer)
USA 1962 Single on Capitol.