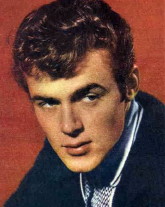 Single on Rex, May 1960. YouTube
Dig Richards (1941-1983): prolific and versatile Australian rock and pop star in the charts from 1959 and into the 70s when he favoured a country style. Later known as Digby Richards. See Raincoat In The River.
After parting with Dig Richards, The R'jays became The Rajahs: more details at Kiss Me Now.
Further reading: Digby Richards page from Howlspace [archive].
Thanks to John Baart for suggestion and initial research.
---
Garry Mills - Comin' Down With Love (1960)
Single on Top Rank International (UK), June 1960. YouTube
You'll see his name misspelt as Gary Mills, but this is British singer Garry Mills, whose Look For A Star (1960), written by Tony Hatch as 'Mark Anthony', was a hit in the US (where, to add to the confusion, it was covered by Buzz Cason using the name Garry Miles).
---
Mel Gadson - Comin' Down With Love (1960)
Single on Big Top, April 1960 YouTube, one of two released by Gadson that year. Also released on Quality in Canada, and on London in UK and Australia. Arranged and conducted by Stan Applebaum. Charted regionally in the USA.
Mel Gadson's entire discography amounts to the two singles on Big Top. Remarkably little is known about him. A reviewer at Amazon has him born in Sarasota, Florida, in 1937, and that's about it.
Sid Tepper and Roy C. Bennett were prolific US songwriters whose partnership lasted from 1945 until 1970. They wrote numerous songs for Elvis Presley films, and for British pop star Cliff Richard. See their composition I'll Step Down, recorded in Australia by Judy Stone.