Single on Phono Vox by Melbourne singer-dancer-actor-comedian-presenter (b. 1948).
Denise Drysdale's career has taken in a range of genres – comedy, drama, variety and musicals – in television, cinema and stage productions. Some meagre examples: in the 60s she was a go-go dancer on TV pop shows, in the 70s she was a star of Ernie Sigley's Tonight-style variety show, and in the early 80s she was a panelist on Beauty and the Beast.
♫ Listen at YouTube
See also Ernie Sigley & Denise Drysdale.
Further reading: The Wikipedia article on Denise Drysdale.
---
April Stevens And Nino Tempo - Baby Weemus (1963)
Single on Atco by brother-and-sister duo, real names Caroline Lo Tempio (1929-2023) and Antonino Lo Tempio (b. 1935). They were both born in Niagara Falls, New York.
Caroline had been releasing pop records as April Stevens since 1950. Two of her records with Henri René And His Orchestra had charted in 1951: I'm In Love Again (#10 Billboard) and Gimme A Little Kiss, Will Ya Huh? (#27). Nino was a successful saxophonist and clarinettist in jazz outfits and studio sessions.
Apart from one single as Carol And Anthony, they were billed as April Stevens & Nino Tempo on their labels from 1960 until Baby Weemus in May 1963. Their next single, in August 1963 was Deep Purple (#1 USA, #17 UK, #15 Australia). It was their first and biggest hit and the first to show their names in the now familiar order as Nino Tempo & April Stevens.
After the success of Deep Purple [YouTube] they released further reworkings of old songs in a similar style, two of which charted Top 40: Whispering (1963, #11 USA) and Stardust (1964, #32).
Their final Top 40 hit came with All Strung Out (1966, #26 USA), a Spectoresque track with distinguished credentials [YouTube]. It was jointly written and produced by Nino with Spector alumnus Jerry Riopelle, and arranged by the extraordinary Nick De Caro.
---
*The US Copyright registration shows A. Lo Tiempo, but the writer credit at BMI is to Anna Lo Tiempo (IPI# 18303022), as is Baby Weemus's B-side. Baby Weemus is not cross-listed under Nino Tempo (IP #69566333). I can't explain this except to mention that the name of Nino & April's mother was Anna.
---
Frank Alamo [avec la participation de Marjorie Noël] - Jolie Frimousse (Baby Weemus) (1964)
On EP Allo… Mai 38-37? by Paris-born 60s singer Frank Alamo (Jean-François Grandin 1941-2012). Accompaniment is by Jacques Loussier Et Son Orchestre.
The French adaptation (= pretty face) is by producer and label owner Claude Carrère (1930-2014) and songwriter Hubert Ithier (1920-2009).
Note how the French adaptation phonetically and rhythmically echoes the English in Baby Weemus – Jolie frimousse.
The female solo taken by April Stevens in the original version is sung here by French yéyé singer Marjorie Noël (Françoise Nivot 1945-2000). Her stage surname reflects her birthday, 25 December. (Merci à notre commentateur de yéyé Philippe.)
See also Frank Alamo – De la science à la fiction (Big Time Operator, 1966).
---
The Chessmen - Baby Weemus (1964)
Single on La Crosse, Wisconsin label Coulee June 1964. (Merci à Philippe pour les précisions.)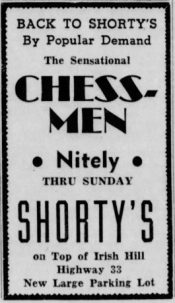 The Chessmen were from Janesville in Wisconsin but also performed in other localities in the state including Milwaukee, La Crosse and Neenah. This Janesville gig notice from 1965 gives the line-up as Jerry Sturdivant, Bob Airis, Mike Matheson and Dick Personett.
Late in 1966 bassist Dick Personett, aka Rich Personett, was in Milwaukee trio Tim Davis and The Chordairs when they were recruited by Wisconsinite Steve Miller to join him on the West Coast in The Steve Miller Blues Band, a precursor to the now well-known Steve Miller Band. Personett's time in the band was limited to a couple of months as he was drafted into military service.
Disambiguation: This is not Johnny Chester's Australian band The Chessmen.
Twenty-eight groups called The Chessmen were listed at Discogs.com by late 2023 (here is #28). See also search results for The Chessmen at 45cat.com (with some duplications).
Sources, further reading: 1. Posts about The Chessmen at Wisconsin Garage Bands 1960s at Facebook. 2. Bruno Ceriotti's detailed history of Steve Miller The Early Years 1943-1974