Del Juliana - I Was A Fool For Leaving (1964)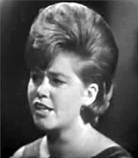 Single on RCA, B-side of (I Say) You're Driving Me Crazy). See also Never Like This/What'd I Say.
Pop-rock singer Del Juliana (1942-2012, b. Delores June Giuliani) was born and grew up in Maroubra, New South Wales, where she also lived as an adult. She released two singles and was a familiar solo artist on TV pop shows. She passed away in Sydney in August 2012 (see Vale Del Juliana at the Support Act website).

Del Juliana has gone down in history as the singer who almost supported The Beatles on their 1964 Australian tour. Whether she pulled out or was overlooked is unclear, but her place seems to have been taken by Johnny Devlin.
According to Teenagers' Weekly, 16 October 1963, Del Guiliani (as her name is still spelt there) was signed to Channel 7 Sydney in 1962 on a five-year contract after she had appeared on Sing Sing Sing, the program that had replaced the Johnny O'Keefe Show from October 1962.
In their book Behind the Rock, Jon Hayton and Leon Isackson tell the story of how their band The R'Jays (soon to be The Rajahs) booked Del Juliana to appear with them at the Snowy Mountains Hotel in Cooma early in 1964. She appeared at a 2002 memorial concert for Dig Richards.
I Was A Fool For Leaving was later included in Long Way To The Top (2001), ABC-TV's Australian pop history series and reissued on the CD of the series.
Listen to I Was A Fool For Leaving at MPH's Del Juliana page.

At YouTube: Del Juliana singing Mockingbird with Johnny O'Keefe, some time before his hit version with Margaret McLaren.
Thanks to Belinda and 'jargonise' at MusicPopHits MSN group.
Teenagers' Weekly reference from Zbigniew Nowara. When Del Guiliani/Juliana joined Sing Sing Sing it was being compered by Lionel Long, but Johnny O'Keefe took over as compere early in 1963 when he returned after illness (Damian Johnstone, The Wild One).
Suggestion from Fred Hill.
Thanks to Steven Richards for further information, and to Rob for straightening out my maths.
Vikki Nelson & The Sounds - I Was A Fool For Leaving (1957)
Single on RCA subsidiary Vik #0273.
Co-writer Clyde Otis later became well-known for his writing and production on Brook Benton's hits.
The B-side was Like A Baby, the original of the Jesse Stone song released by Elvis Presley on Elvis Is Back! (1960).
Further reading: Vikki Nelson discography at SoulfulKindaMusic.net.
Thanks to Davie Gordon for label details.