COL JOYE
Vocal
WITH THE JOY BOYS
---
Col Joye was a pioneering Aussie pop star of the rock'n'roll era (b. Colin Jacobsen, 1937) who in 1957 joined his brother Kevin's jazz band that was to become Col Joye and the Joy Boys.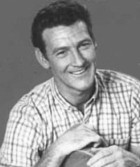 He had ten Top 10 hits in the Sydney charts alone from May 1959 to May 1962, including four #1s, and was a star on television pop show Bandstand. Something of a legend in Australia, his rock'n'roll suit is on display at Sydney's Powerhouse Museum.
Not to be confused with Col Joye's recording of Sweet DreamsOf You.
Further reading: See, for example, the Col Joye bio at AllMusic.
Dave Sampson And The Hunters - Sweet Dreams (1960)
Single on Columbia by band from Cheshunt in Hertfordshire. Cheshunt was also Cliff Richard's home town from late primary through secondary school years.
For more on The Hunters, see their version of Teen Scene, also recorded in Australia by The Thunderbirds.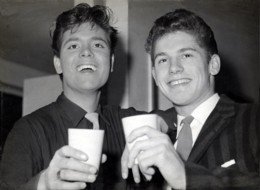 Dave Sampson was lead singer, but The Hunters maintained their own identity as an instrumental band in the way that The Shadows did with vocalist Cliff Richard.
Dave (1941-2014) formed his first skiffle band in 1957 with Martin Murray (later of The Honeycombs). In 1959 he joined The Parker-Royal Five who then changed their name to The Hunters.
The Hunters had connections with Cliff Richard And The Shadows, partly because Brian Parker of The Hunters and Cliff had been at the same secondary school in Cheshunt, and they had both been in the Dick Teague Skiffle Group.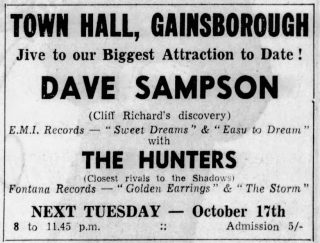 Dave Sampson and Cliff had crossed paths when they were on the same bill at a variety show in Cheshunt late in 1959, and early in 1960 The Hunters backed Cliff in two London shows when The Shadows couldn't make it. The song list was sent to The Hunters and Dave stood in for Cliff in rehearsals.
After Dave wrote Sweet Dreams he took it to Cliff at his parents' home in Cheshunt, hoping that Cliff might record it. He was interested enough to take it to his producer Norrie Paramor who ended up signing Dave to record the song himself.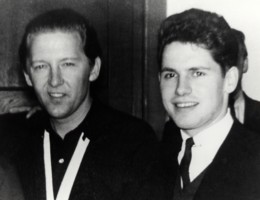 During the 60s Dave toured with a number of British pop stars of the day. As well as Cliff Richard and the Shadows, they included Billy Fury, Marty Wilde and Joe Brown. From 1963 he worked in Hamburg at The Star Club and The Top Ten Club along with The Beatles and other international stars including Jerry Lee Lewis.
In 2005 he appeared with the legendary guitarist James Burton in the Ricky Nelson tribute show, Remembering Ricky.
---
Dave Sampson, who died in 2014, was a good friend of this website. He was delighted to read about the Australian version of his song, and he shared photos and memories of his career with me. After I had updated this page, I was honoured to receive a signed copy from Dave of his fine 1997 retrospective CD. I have referred to its extensive liner notes by Alan Clayson for further updates.