COL JOYE
With the Joy Boys
Strings and Choir
---
Not to be confused with Col Joye's recording of Sweet Dreams.
Col Joye was a pioneering Aussie pop star of the rock'n'roll era (b. Colin Jacobsen, 1937) who in 1957 joined his brother Kevin's jazz band that was to become Col Joye and the Joy Boys. He had ten Top 10 hits in the Sydney charts alone from May 1959 to May 1962, including four #1s, and was a star on television pop show Bandstand.
Something of a legend in Australia, his rock'n'roll suit is on display at Sydney's Powerhouse Museum.
Further reading: See, for example, the Col Joye bio at AllMusic.
Thanks to Terry Stacey for suggestion.
---
Col Joye & The Joy Boys - Sweet Dreams (1961)

SIMILAR TITLE BUT NOT THE SAME SONG AS
'SWEET DREAMS OF YOU' BY COL JOYE w. JOY BOYS.
See Col Joye – Sweet Dreams for song history.
---
---
Tommy McLain - Sweet Dreams Of You (1966)
Swamp pop version of Don Gibson's song by Louisiana singer, now a radio minister and gospel singer-songwriter. See Tommy McLain's own website.
---
Faron Young - Sweet Dreams (Of You) (1956)
The original hit version, on the US country charts. Don Gibson's first song-writing success.
Louisiana-born Faron Young (1932-1996) was a popular country performer from the early 50s, and he also ventured into pop territory, notably with his 1961 hit Hello Walls. (AMGR)
---
Don Gibson - Sweet Dreams (Of You) (1955)
First recorded by Don Gibson in 1955, then again in 1956 in the wake of Faron Young's successful version.
See The Originals website which also lists versions by the Everly Brothers (1963), Mighty Sam (1966), Roy Orbison (1966), Jerry Lee Lewis (1969), Emmylou Harris (1976) and others. See also the list of artists at BMI.
Don Gibson, country music great who frequently crossed into the pop charts, had hits in Australia with several songs, including Oh Lonesome Me (1958), Sea Of Heartbreak (1961) and Lonesome No. 1 (1961).
The song is often listed as simply Sweet Dreams by Don Gibson, but it is not the Dave Sampson song Sweet Dreams also recorded by Col Joye.
---
Roy Buchanan - Sweet Dreams (1972)
Don Gibson's Sweet Dreams (Of You).
Roy Buchanan (1939-1988): influential and innovative master of the Fender Telecaster guitar, born in Alabama but active in the Washington, D.C. area. (AMGR)
---
Judy Stone - Sweet Dreams Of You (1969)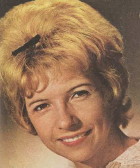 On Festival LP Welcome To My World which includes the title track and a duet with Leo De Kroo of the De Kroo Brothers on Lee Hazelwood's Lady Bird.
Judy Stone: popular Australian singer, a regular on the long-running TV pop show Bandstand, often on the charts in Australia from the early 60s to the mid-70s.
Further reading: Wikipedia article on Judy Stone.

Thanks to Terry Stacey for version alert.
---
Elvis Costello & The Attractions - Sweet Dreams (1981)
Track on Almost Blue, an album of country & western songs recorded in Nashville by British singer-songwriter (b.1954, Declan MacManus) who over the years broadened out from his original new wave/post-punk style .