Single on Impact by good-humoured oldtime jugband from Melbourne, formed 1969, featuring the Conway brothers, Jim and Mic, who had formed its precursor The Jelly Bean Jug Band at high school. Their repertoire was drawn from 30s and 40s jazz, blues and jugband sources, enhanced by a comical stage presence. In 1980, by then known as Matchbox, the band wound up after numerous personnel changes. The story didn't end there: follow the links below to continue.
References, further reading: 1. Ian Mcfarlane, The Encyclopedia of Australian Rock & Pop (1999), pp 96-7. 2. Milesago's Captain Matchbox page takes the Conway brothers' story into the 80s, 90s and beyond,
3. Mic Conway's site at MicConway.com. 4. Wikipedia articles on Mic Conway and Jim Conway.
---
Barr, 1992 is cited in several places on this page. It is Steven C. Barr's The Almost Complete 78 rpm Record Dating Guide (1992 edition), an indispensable and extraordinary reference work no longer in print but accessible at The Internet Archive.
---
The Limehouse Jazz Band - My Canary Has Circles Under His Eyes (1971)
Track on self-titled LP, a custom pressing EAS51 by Melbourne independent label East (Elwood Audio Services), one of two LPs by the band on East.
The label's small discography includes an LP by folk singer Glen Tomasetti (1960), two EPs by The Red Onions Jazz Band (1963 & 1964) and a single by 18CQ (aka 18th Century Quartet) (1964).
References: 1. Jack Mitchell, Australian Jazz on Record 1925-80 (National Film & Sound Archive,1988), p.135. 2. Independent Australian Labels, discography at Australian Record Labels.
---
The Wesley Three - My Canary Has Circles Under His Eyes (1967)
Single on CBS #BA-221439 by Adelaide folk group formed at university. The members, most of whom played several instruments, were twin brothers Peter and Martin Wesley-Smith with Keith Conlon . Personnel on a c.1965 album produced by Sven Libaek included Andy Sundstrom.
Martin Wesley-Smith is now known as an innovative and eclectic composer and teacher. Peter Wesley-Smith became a Law academic and writer who has collaborated with his brother as librettist. Keith Conlon was a prominent broadcaster in Adelaide on commercial, community and ABC outlets, including some years as nightly newsreader on ABC-TV.
This is not
Melbourne's
Wesley Trio
(1964, from Wesley College) which soon after
became

The Groop
, although at least one credible source points out that they were in fact called
The Oxford Trio
[David Johnston,
The Music Goes Round My Head
(2010), p.121, quoting Trio and Groop member Peter McKeddie. See also
my notes
on the two trios at 45Cat.]
References, further reading: 1. Liner notes to The Wesley Three's 1966 self-titled EP at 45cat. 2. Martin Wesley-Smith at Wikipedia. 3. Wesley Three line-up at RateYourMusic. 4. Peter Wesley-Smith: biography and works. 5. Keith Conlan at Wikipedia. 6. Martin Wesley-Smith profile (2017), "The serious side of nonsense with a musical genius" at South Coast Register. 7. Album personnel c.1965 at NLA's Trove.
---
Karl Denver - My Canary Has Circles Under His Eyes (1963)
Single on Decca, B-side of #13 UK single Still.
Glasgow-born singer (1931-1998), real name Angus McKenzie, remembered for his wild version of Wimoweh (1961)
Further reading: Tribute to Karl Denver at the Billy Fury website.
---
George Melly With Mick Mulligan And His Band - My Canary Has Circles Under His Eyes (1956)
Single on Decca by George Melly, Liverpool-born trad jazz vocalist, surrealist artist, writer, film and music critic, and media personality (1926-2007). He had joined Mick Mulligan's Magnolia Jazz Band in 1949.
---
In 1974 George Melly And John Chilton's Feetwarmers released My Canary Has Circles Under His Eyes on a Warner Brothers single.
---
Further reading: George Melly biography by Jason Ankeny at AllMusic.
---
---
Elsie Carlisle - My Canary Has Circles Under His Eyes (1931)
Recorded c.10 June 1931
78 rpm disc on Imperial #2489 by popular Manchester-born singer Elsie Carlisle (1896-1977), often heard on British radio and as a band singer in the 1930s, notably with the Ambrose Orchestra. She appeared on experimental television as early as 1930.
Two of Elsie Carlisle's recordings with Ambrose were lip-synched by actors (including Bob Hoskins YouTube) in the British TV series Pennies From Heaven (1978). She is heard singing The Clouds Will Soon Roll By in the TV series and in the 1981 American film adapted from the series.
Further reading: The fine Elsie Carlisle website is full of information, including a biography. Several of her songs have their own page, including My Canary Has Circles Under His Eyes.
---
The Waldorfians - My Canary Has Circles Under His Eyes (1931)
Recorded early June 1931 (see also Barr, 1992)
78 rpm disc on Piccadilly #780, vocals by Al Bowlly, directed by Howard Godfrey.
This outfit also recorded as the Fifth Avenue Dance Band.
Al Bowlly (1898-1941) was a popular band singer and prolific recording artist. His records have become known in recent decades through reissues, and in other media where a song from the 30s is called for. This can be traced back to the TV series Pennies From Heaven (1978) which used several of Bowlly's songs, and since then he has been heard on numerous soundtracks.
Bowlly was born in Mozambique and brought up in Johannesburg, but flourished in Britain and the USA in the 1930s, notably with the bands of Lew Stone and Ray Noble. When Noble moved to the US to lead a new band, Bowlly went with him.
Al Bowlly died in 1941 when a German bomb exploded near his London flat.
Further reading: 1. Al Bowlly biography by John Bush at AllMusic. 2. Al Bowlly at Wikipedia.
---
Sophie Tucker - My Canary Has Circles Under His Eyes (1931)
With Ted Shapiro And Orchestra.
78 rpm disc on Broadcast Super Twelve #3042, recorded in London.
Released in range 3000-3050 Jan-Jun 1931 (see Barr, 1992).
Versatile American vaudeville, nightclub, radio and musical stage singer and comedian Sophie Tucker (1887-1966), known as The Last of the Red Hot Mamas, was born Sofya Kalish in Ukraine, but grew up in Boston and Hartford after her parents emigrated to the USA.
Ted Shapiro (1899-1980) was Sophie Tucker's accompanist and musical director for over 40 years.
Further reading: Sophie Tucker biography by Steve Huey at AllMusic.
---
George Tucker And His Novelty Band - My Canary Has Circles Under His Eyes (1931)
Recorded April or May 1931
78 rpm disc on Broadway #3370. Recorded in Grafton, Wisconsin, vocals by Frankie Sanders.
The Novelty Band was a recording alias used by bandleader Lawrence Welk (1903-1992), years before he became a star conductor of easy listening music on his TV variety show YouTube.
Further reading: 1. Lawrence Welk's Novelty Orchestra by Dennis Pereyra at redhotjazz.com. 3. Lawrence Welk biography by Steve Huey at AllMusic.
---
The Debroy Somers Band - My Canary Has Circles Under His Eyes (1931)
Vocals by Dan Donovan.
Released around May 1931?
78 rpm disc on UK Columbia #CB261 by major British danceband leader and arranger, founder of the Savoy Hotel Orpheans, born William Henry Somers (1890-1952). Debroy was a stage name, possibly chosen to suit the Jazz Age because it sounded African-American.
Further reading: Debroy Somers profile and commentary at Richard Gilbert's website. Highly recommended.
---
Two versions on UK Columbia: which came first?
The Columbia UK records are Debroy Somers CB261, Marion Harris DB453, but these numbers were not in the same sequence. The letters C and D were based on label colours, and B = Britain. Both records were released in the first half of 1931, Somers in the range CB180 (in January) to CB275 (June), and Harris in the range DB350 (January) to DB500 (June): see Barr, 1992. It is hard to pin down exact release dates, but there is some circumstantial evidence for placing Harris earlier than Somers (see below).
---
Tommie & Willie - My Canary Has Circles Under His Eyes (1931)
78 rpm disc Champion #16259.
The Champion label was in Richmond, Indiana, a budget subsidiary of the Starr Piano Company's Gennett Records. The label name was briefly used by Decca 1935-36.
Recorded April 1931, release date unknown.
Reference: 1. Four different Champion record labels are briefly outlined at Wikipedia. 2. Champion discography at Online Discographical Project.
---
Marion Harris - My Canary Has Circles Under His Eyes (1931)
Released around April 1931?

With Billy Mason & His Cafe de Paris Band.
78 rpm disc on UK Columbia #DB453 by jazz-blues oriented singer Marion Harris (1896-1944, sometimes spelt Marian). She was American, but worked in London in 1931, cutting records and performing at the Cafe de Paris nightclub in the West End.
---
Marion Harris's version of My Canary was one of the earliest, and her name and photo appeared on the sheet music for the song [image right].
She knew co-writer Jack Golden who had previously accompanied her on piano, for example at The Floridian Supper Club in Miami on 14/2/1930 [image at foot of page].
A small sample of gramophone reviews in the British press shows Marion Harris's record reviewed in April 1931, with Debroy Somers reviews appearing in May.
Harris had sung My Canary in America in January 1931 on Rudy Vallee's radio program, the earliest broadcast performance I can find. (It was heard often that year, on live radio and in local concerts, sung by a variety of artists. French star Maurice Chevalier even performed his own variation on the lyrics for American radio in April.)
---
The writers:
Golden composed the music, the lyrics are by Koehler and Pola.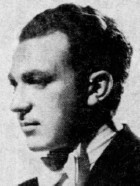 John Irving "Jack" Golden (b.1904, possibly in Virginia) was a pianist, conductor, songwriter, arranger and vocal coach who was accompanist for the American singer and entertainer Harry Richman (1895-1972) on and off from the late 1920s. He wrote songs with Richman (including this one from 1939), and he appeared with Richman on record and on stage until the late 1940s.
He worked with other artists as arranger, accompanist or coach, including Marion Harris, Eleanor Powell and Frances Langford.
By the early 1960s Golden had retired as a professional musician and settled in Dundalk, in Baltimore, where he operated a business and occasionally appeared as a pianist at local events.
John Golden the US composer, stage producer and theatrical entrepreneur, whose middle name was Lionel, is a different person.
This biographical sketch of Jack Golden is based on original research. If you use it, please credit me or my website. You can email me for a list of sources. ©Lyn Nuttall 2019
Ted Koehler (1894-1973) was a prolific lyricist who worked with many notable Tin Pan Alley composers of the 20th Century. His collaborations with Harold Arlen included Stormy Weather, Between the Devil and the Deep Blue Sea and Get Happy. (Koehler is spelt Kohler on some labels.)
Eddie Pola (1907-1995) was a New York-born songwriter and actor who appeared in five British films 1936-39, then moved into radio and TV production back in the US.
---
My Canary had had a little advance publicity in September 1930 when the syndicated column Walter Winchell on Broadway mentioned it briefly as a new Eddie Pola song.
Further reading:
1. Marion Harris at jazzage1920s.com. 2. Marion Harris Collection 1925-1934: album of 32 tracks including "My Canary…", listen to 30-sec. samples at Internet Archive.